Does Edmonton's Sam Gagner makes sense for Preds?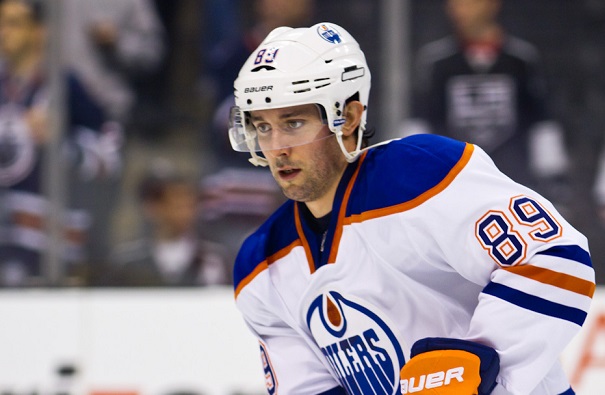 At 2:00pm Central on Wednesday, the NHL's trade deadline kicks in and the Nashville Predators could be involved.
Will pending unrestricted free agent David Legwand will be moved? Is the team just looking for a future piece? Are they in the market for someone to help the cause right now, even if they're a rental?
Predators Assistant General Manager Paul Fenton went on 1250 WSSP in Milwaukee last week and shed some light on things.
Fenton: "We're going to look at our game Thursday night and Saturday afternoon and then on Tuesday and see where we are."

— Ryan B. Miller (@RyanAdmirals) February 25, 2014
Well, the Predators made quite a statement on Thursday, coming back from a 2-0 first period deficit against the Tampa Bay Lightning to win 3-2. But then, on Saturday, they dropped a critical game against the Winnipeg Jets (a team they're in direct competition with). If they lose to the Pittsburgh Penguins on Tuesday, they may be too far behind to have a legitimate shot, prompting them to become sellers. If they win — depending on what happens Monday around the league — they could find themselves just two points back, prompting them to become buyers.
Fenton, GM David Poile and the rest of the Nashville front office are correct in their utilization of the maximum time allotted. No need to rush things. Get as much information as you can (i.e. where you are in the standings) and then make the best decision(s) possible.
In the past, Western Conference bubble teams were in one big pack from 5-10 or from 6-12. This season, however, the top seven slots seem pretty much locked up. That leaves the eighth and final position with five teams competing for it. Barring an absolute collapse by the Los Angeles Kings or Minnesota Wild, only one of the Winnipeg Jets, Phoenix Coyotes, Dallas Stars, Vancouver Canucks and Predators will be left standing on April 13.
Some would argue that, with the odds stacked against Nashville, it may be best to acquire some future assets (a la the trade that brought Filip Forsberg into the organization last year) and let the stretch run unfold as it will. Basically, if they get in, great. If they don't, at least they acquired some pieces. Others would argue that, after a lockout that bruised the league's image and an uncharacteristically bad season for the Preds in 2013, it's critical for Nashville to make the playoffs this year and, therefore, they should be buyers at all costs.
The truth, as usual, lay somewhere in the middle.
Some hot names right now are New York Islanders forward Thomas Vanek and Buffalo Sabres winger Matt Moulson. Both would give Nashville something they're sorely missing: a goal scorer but both would also cost the Preds some high-end assets in a year where they may or may not make the post season. Can they really justify sacrificing prospects or first round draft picks knowing both are unrestricted free agents on July 1?
Fenton: "I don't believe that we'll be in on the Thomas Vanek or Matt Moulson sweepstakes, or any of the guys that are unrestricted."

— Ryan B. Miller (@RyanAdmirals) February 25, 2014
Alright, so they're out. Matter of fact, it looks like we need to focus on players who fill a need but who are also signed through at least next year.
Enter Sam Gagner of the Edmonton Oilers.
Gagner is just 24 years old and has another year left on his deal. He's a consistent producer if nothing else, posting between 41-49 points in each of his five full seasons (and 35 in the lockout-shortened 2013 campaign). He would be Nashville's highest paid forward at $4.8 million but that's reasonable considering his age and offensive production. The London, Ontario native is a natural center and could become a key building block down the middle. Remember, even if Legwand isn't moved, his contract expires at the end of this year and Mike Fisher's ends after next season.
"He's very very skilled," Predators goaltender Devan Dubnyk said. "Great vision with the puck. I always found his shot, his release, was one of the most difficult. He's a great power play guy as well, he works extremely hard and he's a good guy in the room."
Dubnyk would know. He was Gagner's teammate in Edmonton from 2009 to 2014.
The Oilers need defensemen and the Predators have plenty of those. Obviously Shea Weber, Roman Josi and Seth Jones are untouchable and Michael Del Zotto was just acquired in January so he's probably not going anywhere either. That leaves Ryan Ellis, Mattias Ekholm and Victor Bartley. Ellis' name carries a lot of weight north of the border thanks to his ridiculous accomplishments in Canadian major junior. But Ekholm, 23, is no slouch either having won the rookie of the year (2011), defenseman of the year (2012) and a league championship (2012) in the Swedish Elite League.
So the pieces are there for both clubs to be happy but is there anything to indicate that it could actually happen?
The Fourth Period linked the two together on Valentine's Day but, even before that, there was a subtle hint made by Poile himself. When the Preds shipped Matt Hendricks to Edmonton in exchange for Dubnyk on January 15, inside his opening remarks to the media, Poile dropped this:
"We've been talking to Edmonton for a while about a number of scenarios," he said.
Obviously that could mean 263 different things but when you couple that with The Fourth Period report and the other rumors that are out there, it's certainly likely that one of those scenarios was when/if the Predators would want Gagner.
He would be a nice replacement for Legwand if the Predators decide to move on but would he solve Nashville's scoring problems? Absolutely not. He's never scored more than 18 goals in a season. Additionally, it's possible that he could just be the benefactor of playing alongside talented wingers such as Jordan Eberle, Taylor Hall and Nail Yakupov. So he fills a need but not the need.
We'll find out on Wednesday what the Preds think Gagne is worth. If anything.
—
PHOTO CREDIT: Bridget Samuels (used with permission)