One year later, Flyers fans continue to believe Shea Weber will be traded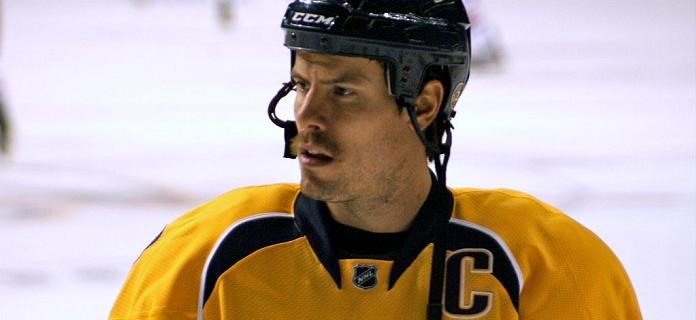 You could see this coming months away. Especially after an uncharacteristically horrible season in Music City.
You'll recall that, on July 18 of last year, Nashville Predators captain Shea Weber signed a 14-year, $110 million offer sheet from the Philadelphia Flyers. You'll also recall that the Preds matched said offer sheet a week later.
Matching meant that Weber would receive $27 million from Nashville in the first year of the deal ($14 million in salary and another $13 million as a signing bonus). Additionally, under the CBA rules, if the original club chooses to match, the player cannot be traded within one calendar year of the date he signed.
Well, today is July 18.
But why would a small-market club like the Predators (with aspirations of being a salary cap team, by the way) go through the headache of matching a 14-year offer sheet, go through the financial burden of paying one player $27 million in a 12 month span and have the gull to refuse five first round picks as compensation just to trade him a year later? Logic tells you, they wouldn't.
Flyers fans, apparently, don't need logic.
These are actual tweets from Flyers fans who have hopes and dreams that Weber will be on the move tomorrow. To Philadelphia, no less.
#Flyers ONE day Until Shea Weber can demand a TRADE! 😀 #Preds Keep your eyes open

— Alex Wray (@AlexWray7) July 18, 2013
@JoshuaCooper any rumors about #Flyers trying to trade for #Weber now that the 1 year anniversary in upon us?

— Stephen Kane (@CitizenKane17) July 18, 2013
@BroadStBull do u see the flyers making a move for weber on july 19th — kevin skele (@kevinskele) July 17, 2013
@RumorBreak anything relating to the flyers. Shea Weber can officially be traded this Friday. Brunner still around. Yandle/Byfuglien poss?? — Scott Kaurene (@draapaah) July 17, 2013
Woah @sobrien52 thoughts initially on Shea Weber Reports? — Nicholas Woods (@NickWayneWoods) July 18, 2013
Shea Weber. go to Philly. — Travis White (@Travis_GTD) July 18, 2013
Brace Yourselves… Shea Weber Proposals are coming. #Canucks #Flyers #Preds #Weber — David Correia (@Dave_Djembefola) July 17, 2013

It's one thing for fans to hope and pray that a superstar like Weber comes to their hockey club, especially when their biggest need is a defenseman, but it's a whole other thing when a media member gets involved.
Panaccio : "GM Holmgren did, however, contact NSH counterpart David Poile to inquire whether NSH would move Weber once July 19 came around"

— Philadelphia Flu (@PhiladelphiaFlu) July 13, 2013
The tweeter refers to Tim Panaccio, an "insider" for CSN Philadelphia. Whether he's begging for website hits or he honestly believes Weber is on the move is irrelevant. The bottom line is, Panaccio consistently floats the idea of the Predators captain ditching gold for orange.
By the way, Panaccio's employer is Comcast Sports Net Philadelphia. Do you know who owns Comcast Sports Net Philadelphia? The NBC Sports Group. And who owns the NBC Sports Group? NBC Universal. And who owns NBC Universal? Comcast. And, low and behold, who owns the Flyers? Ed Snider, founder, chairman and 37% owner of Comcast Spectacor.
Flyers fans should really consider a few things like the source of their hopes and dreams.
And logic. But who needs that?
—
PHOTO CREDIT: Sarah Fuqua (used with permission)