OPERATION: Silver Lining (who to root for Thursday)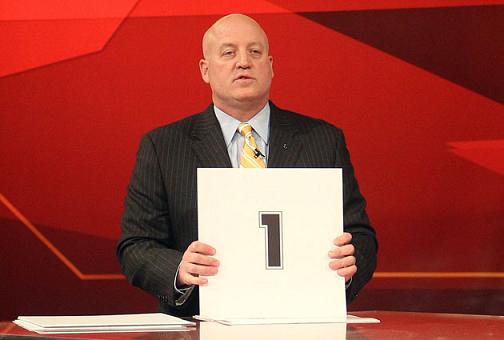 The Nashville Predators have been eliminated from the playoff race and, therefore, Operation: Miracle is dead. But fret not! We now have Operation: Silver Lining! We'll post this series every day until the end of the 2013 regular season.
—
In a year that has dealt tough blow after tough blow to this organization, the Nashville Predators are inching closer and closer to that all-too-important top five pick.
Since taking David Legwand second overall in 1998, the Preds have never picked in the top five of the NHL Draft. Additionally, they've been eliminated from the playoff race, they've struggled offensively and there are four high-impact players available at the top of the draft class. Add all that up and Nashville has every reason to hope for a high pick this summer.
Winger Jonathan Drouin, centers Nathan MacKinnon and Aleksander Barkov as well as defenseman Seth Jones are considered the cream of the crop and it will take a top five pick to get one of them. Remember, the lower the Preds finish in the league standings, the higher their probability to win the draft lottery and/or pick in the top five.
Nobody wants Nashville to lose. We would never suggest or hope for that. But, with other teams' help, they could make the best out of a bad situation. For example, with their 3-2 win over the Red Wings last night, the Calgary Flames simultaneously helped the Predators, hurt themselves and dealt a blow to Detroit's playoff hopes.
Nashville sits in 27th after Wednesday's action so here are your rooting interests for Thursday:
FLORIDA (in 30th place) needs to beat the NEW YORK RANGERS

TAMPA BAY (26th) needs to beat MONTREAL
NEW JERSEY (23rd) needs to beat PHILADELPHIA (22nd) in overtime or a shootout
CAROLINA (28th) needs to beat WINNIPEG
It's important to note that, if the Carolina Hurricanes beat the Jets tonight, they will be tied with the Preds in points but hurdle them in the standings thanks to three more wins.
The lottery is Monday night, April 29. Make plans to watch it with us at Brewhouse South in Cool Springs. Details will be up soon.