Our favorite Anders Lindback moments: #2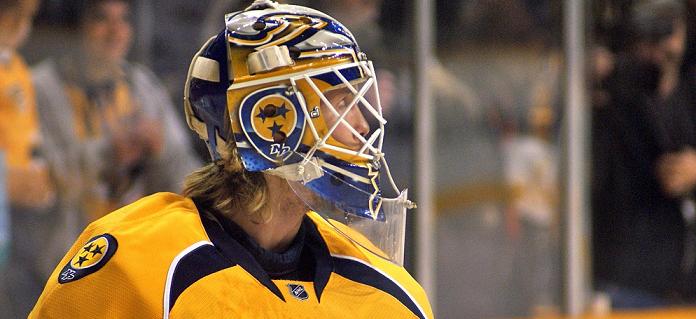 Few back-up goaltenders make a lasting impression on a fanbase. Even fewer do so who play less than 25 games a year. This is our tribute to Anders Lindback, who was traded to the Tampa Bay Lightning on Friday, June 15. Take care of him Bolts fans. He's a good one.
***
#2: MESSING AROUND WITH WADE BELAK
Before the 2010-11 season even started, it was very easy to see that Anders Lindback had a sense of humor.
Being new to the locker room and not knowing whether he would be in Nashville or Milwaukee to start his first pro season in North America, the 6'6″ Gavle, Sweden native decided to take some lessons after training camp one day.
But not from Mitch Korn. From Wade Belak.
Belak, a fellow big man, offered to teach Lindback how to fight. What ensued was a hilarious exchange that lasted for several minutes and showcased both men's personalities to the handful of fans that had stuck around.
Unfortunately, the Predators family and the hockey community lost Belak less than a year later.
—
HEADLINE PHOTO CREDIT: Sarah Fuqua // Flickr (used with permission)
INSERT PHOTO CREDITS: Jeremy K. Gover // section303.com