Our favorite Anders Lindback moments: #3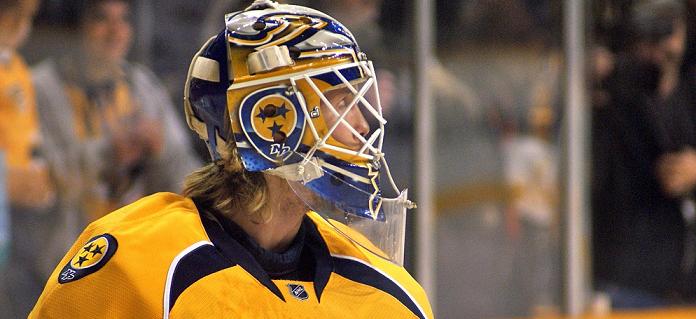 Few back-up goaltenders make a lasting impression on a fanbase. Even fewer do so who play less than 25 games a year. This is our tribute to Anders Lindback, who was traded to the Tampa Bay Lightning on Friday, June 15. Take care of him Bolts fans. He's a good one.
***
#3: BACK-TO-BACK SHUTOUTS
On December 1, 2010, Pekka Rinne suffered a knee injury against the Columbus Blue Jackets. Rookie back-up Anders Lindback was thrust into action for the second time in three months and became Nashville's starter for the next nine games, amassing a 6-2-1 record over that span. If he doesn't play well in that stretch, Nashville probably doesn't make the playoffs as they finished only four points ahead of the ninth place Dallas Stars in the West.
If that wasn't impressive enough, the Gavle, Sweden native pitched back-to-back shutouts on December 11 and 13, verifying that his previous fill-in stint in October was no fluke. After posting a 9-1-2 record through December 17, here was a goaltender who was forcing his name into the Calder Trophy conversation as the NHL's best rookie. Unfortunately for him he would only start four more games once Rinne returned to the lineup and any stock he had built up for Rookie of the Year consideration was quickly forgotten.
His kick save on Rob Schremp's rebound attempt late in the third period preserved the back-to-back shutout bid and made the league's weekly highlight reels.

—
RELATED READING:
—
HEADLINE PHOTO CREDIT: Sarah Fuqua // Flickr (used with permission)
VIDEO CREDIT: nhl.com