Panthers promote former Preds Associate Coach Peter Horachek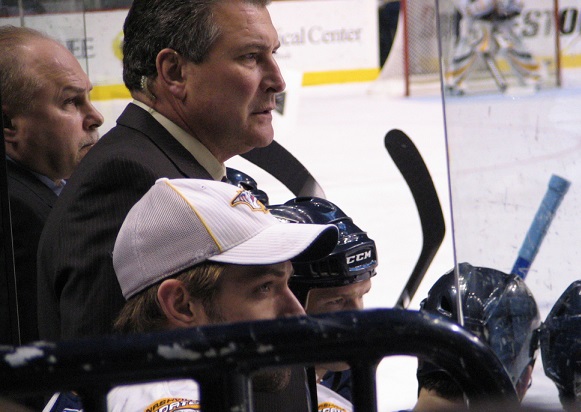 In a bit of early morning breaking news, the Florida Panthers have promoted former Nashville Predators Associate Coach Peter Horachek to interim head coach.
Horachek was fired by the Nashville Predators rather abruptly on May 20 before being named the head coach of the AHL's San Antonio Rampage a month later.
The Stoney Creek, Ontario native had interviewed for head coaching jobs in both Florida and Dallas in the past few years but Florida General Manager Dale Tallon cleaned house today firing Kevin Dineen and assistants Gord Murphy and Craig Ramsay. As a result, Horachek has been promoted from Rampage to the big club in Miami.
The Panthers have participated in the post season just once in the last 12 years and have only been out of the first round once in their 21-year existence (when they went to the Stanley Cup Final in 1996).
Since the Nashville Knights in 1991, Horachek has never missed the playoffs as a head coach at any level.
Florida's official press release is below.
***
SUNRISE, Fla. – Florida Panthers Executive Vice President & General Manager Dale Tallon announced today that Peter Horachek has been named the club's new interim head coach. In addition, the team announced that both Brian Skrudland and John Madden will join the Panthers staff as assistant coaches.
"Peter is a bright hockey mind who brings to our club a wealth of coaching knowledge," said Tallon. "He is a focused, determined and demanding coach who has experienced great success at all levels of competition. Both Brian and John are proven winners who won multiple Stanley Cups and are individuals that our players know very well. With these additions, we are confident that we have a staff that will work tirelessly to bring continued success to our organization."
Horachek, 53, becomes Florida's 12th head coach in franchise history after most recently serving as the head coach of Florida's American Hockey League affiliate, the San Antonio Rampage. Prior to working in San Antonio, Horacheck spent nine seasons with the Nashville Predators (2003-2013), serving his last two years as associate head coach. While working for the Predators, he helped the club advance to the postseason on seven occasions.
Horachek has also served as the head coach for the American Hockey League's Milwaukee Admirals (2002-2003), ECHL's Trenton Titans (2001-2002) and the International Hockey League's Orlando Solar Bears (1999-2001), where he won the 2001 Turner Cup.
Skrudland, 50, has spent the last four years as the team's director of player development. He served as Florida's first team captain, appearing in 256 games with the Panthers (1993-97), while guiding the club to the 1996 Eastern Conference Championship and the Stanley Cup Finals.
Throughout his 15-year NHL playing career, Skrudland played in 881 career National Hockey League contests for Montreal (1985-93), Calgary (1992-93), Florida (1993-97), NY Rangers (1997-98) and Dallas (1997-2000), registering 343 points (124-219-343) and 1,107 PIM. He won Stanley Cups with the Montreal Canadiens (1986) and Dallas Stars (1999).
After his retirement from playing at the age of 36, the Peace River, Alberta, native returned to the Flames organization as an assistant coach for three seasons (2000-2003).
Madden, 40, returned to the Panthers this season as a pro scout after helping the team win the 2011-2012 Southeast Division Championship. Throughout his 13-year playing career, Madden played for New Jersey (1998-2004 & 2005-2009), Chicago (2009-2010), Minnesota (2010-2011) and Florida (2011-2012), earning three Stanley Cup titles (New Jersey 2000 & 2003) and Chicago (2010).
The Toronto, Ontario, native played in 898 career NHL games, recording 348 points (165-183-348) and 219 PIM. He was awarded the Frank J. Selke Trophy in 2001. After his retirement in 2012, Madden spent one year with the Montreal Canadiens (2012-2013) serving on their scouting staff.
Sunrise Sports & Entertainment is the premier company of its kind in South Florida. Florida Panthers Social Media is powered by Ford – follow us on Twitter and Facebook. Home to the Florida Panthers Hockey Club and internationally recognized concerts and events, the Broward County-owned BB&T Center is one of the top ranked venues of its kind in the world.
—
PHOTO CREDIT: Beauty Playin 'Eh // flickr (used with permission)