Pekka Rinne: a section303.com exit interview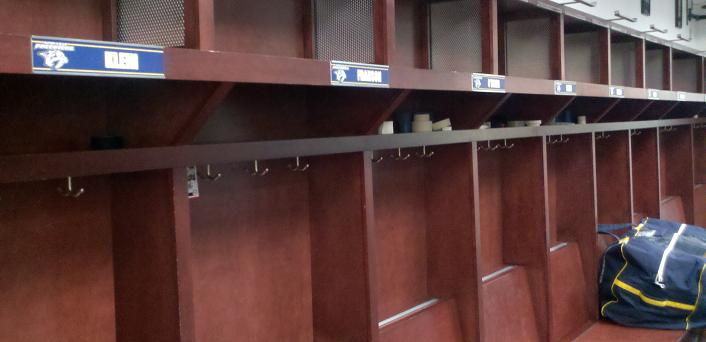 This is the third of a multi-part series of exclusive interviews conducted by section303.com during the final media availability session for the 2010-11 Nashville Predators.
—
In this installment, we spoke with Nashville goaltender and 2011 Vezina Trophy candidate Pekka Rinne. The big Finnish netminder spoke to us about his plans for the summer, his continued improvement at the NHL level and, of course, his Vezina Trophy nomination.
—
section303.com: You always hear the expression "You have to learn how to win before you can win" when it comes to championships. Do you feel like you guys did that this year?
Pekka Rinne: Well I really hope so. Yeah, I think you're right, a lot of the great teams they failed a couple times before they gave their best shot and their push. I think we are learning every season and we are getting better. I have no doubt in my mind that we're going to be better next year and also that our management is going to do their best job to improve our team. I think we can truly expect that.
303: You personally have improved every season. Not only wins and games played and saves but in end results. Your first year as a starter, you missed the playoffs by a game or two. In your second year, you got to the playoffs but lost to Chicago. Now, in your third year, you made the second round. Obviously your goal is to win the Stanley Cup but what does that improvement say about you and your progression at the NHL level?
PR: Yeah I think I'm on the right track. But one thing is I've been able to stay healthy and I've been playing with good teammates so that's obviously a key thing with being a goalie. But yeah, you try to work hard every year and try to improve and I think I still have a ways to go and, really, I look forward to next season and be better. You know, working with Mitch Korn, I think we've made some good strides.
303: What are your plans this summer? What's typically you're routine?
PR:I go back to Finland and train there. Usually I'll come back here around August and start skating here and get ready for training camp but mostly I try to spend it in Finland around my family and my friends.
303: Do you try to get away from the game as much as possible?
PR:Usually the first month or so. But then, you know, it's your job so you start missing it even though it's only been a month but that's what you do and that's what you love to do so, you know, you don't need a long break. I think mentally that's the biggest thing just not to have any kind of pressure and you can just focus on your friends, your family and on yourself.
303:Talk a little bit about being nominated for the Vezina Trophy. Obviously we all believe you deserve it, hands down, but there's only a select group of NHL starting goalies and you're one of the three of those 30 starters that are nominated. What's it like to be in that class?
PR: Well… it's such a big honor. I'm really… it's almost like a surprise. When you look back and you go back a couple years and think of where you are now. Things happen so fast and you just try to hang in there and enjoy the ride. But yeah, it's just great to go there and have that experience and just sit back and enjoy the Awards.
303: Have you ever been to Vegas before?
PR: No. *laughs* It's my first time so it's probably gonna be a fun time.
303: Thank you so much and congratulations.
PR: Alright, thank you.
303: We'll see you in Vegas.
PR: Oh, you going?
303: Oh yeah, we'll be there.
PR: Great, see you then.
—
HEADLINE PHOTO CREDIT: Jeremy K. Gover // section303.com
INSET PHOTO CREDIT: Jas Faulkner // The Hockey Writers