Pekka Rinne named a Vezina Trophy finalist…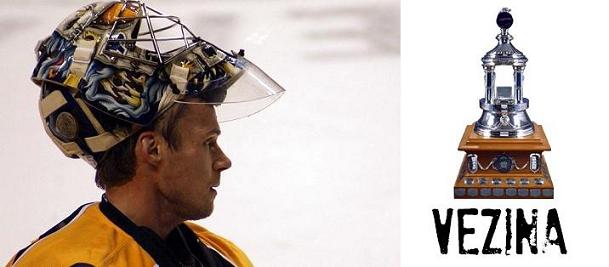 Just like last year, Nashville Predators netminder Pekka Rinne has been named a Vezina Trophy finalist.
The Vezina Trophy is given out each year to the NHL's top goaltender.
While completely deserving, there was some debate as to whether or not the Kempele, Finland native would be among the nominees this season. New York's Henrik Lundqvist was considered the front runner through most of the season, Los Angeles' Jonathan Quick posted a league leading 10 shutouts and a league leading 1.95 goals against average (among goalies with more than 40 games played) and Phoenix's Mike Smith was tied for the league lead in save percentage (.930).
And then there was the two-headed monster in St. Louis.
Jaroslav Halak and Brian Elliott backstopped the Blues to a Central Division title, the lowest goals allowed in the Western Conference and even captured the Jennings Trophy for the league's fewest goals against (165). If all that wasn't enough, each posted a sub-2.00 GAA, an extremely rare feat.
But which of the two would become a finalist? Would either? Elliott set a modern day NHL record with a 1.56 GAA but only played in 38 contests. Was that a large enough body of work to warrant a nomination? His counterpart between the pipes, Halak, started all 46 games he played in and posted a .926 save percentage along with six shutouts. Was that a large enough body of work to warrant a nomination?
So with the three goaltenders mentioned above and the two Blues goalies, Rinne was hardly a lock as a finalist. But, in the end, his league leading 43 wins, his league leading 2,153 shots against and his league leading 1,987 saves were enough to force him into the Vezina conversation with fellow nominees Lundqvist and Quick.
He finished second in the Vezina voting last year. Will he take home the hardware this year?
—
STICK TAP to Greg Wyshysnki of Puck Daddy for this photo.
PHOTO CREDIT: Sarah Fuqua // Flickr (used with permission)