Phoenix steals win in Nashville…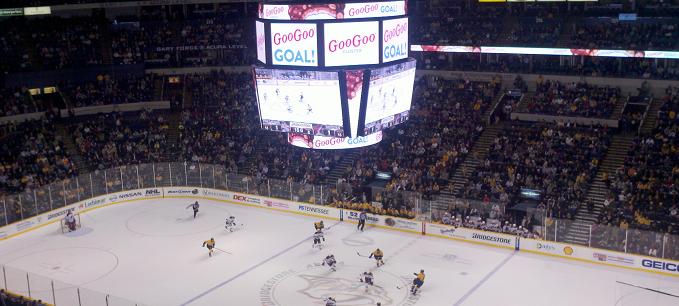 The Phoenix Coyotes are overachieving. The Nashville Predators are underachieving.
Unfortunately for Nashville, that held true on Tuesday night.
In front of 15,638 inside Bridgestone Arena, the Preds dropped their fourth straight on home ice (0-3-1) and remain in 11th place in the Western Conference.
The over-achieving Coyotes now sit atop the Pacific Division.
Pekka Rinne made 32 saves in the loss while his counterpart Jason LaBarbera  made 30, including a miraculous diving stop in the third period to keep his team in the game.
Phoenix didn't waste any time getting this one going. A mere 0:09 into the contest, Lauri Korpikoski wristed a shot on goal. The puck actually trickled behind Rinne and Taylor Pyatt put it over the line for the early lead.
"We talk about having a good start but then, eight seconds in, we get a tough bounce," Nashville Head Coach Barry Trotz said.
"Obviously it's not how we want to start the game but it was just a fluke," Jerred Smithson said. "Really, at that point, it didn't faze us. There was tons of hockey to be played."
The Predators tied it up on a Jack Hillen goal with just 0:11 left in the frame. After an incredible play to keep the puck in the Coyotes zone by rookie Craig Smith, Hillen fired the puck at the net and Fisher provided the screen to tie the game.
Fast forward to the beginning of the third period and, after an impossible diving save by LaBarbera, Ray Whitney rushed back up the ice and scored to make it 2-1, Phoenix.
"We had some glorious chances in the period," Trotz said. "LaBarbera made an outstanding save and they came down and scored. That can be a momentum killer."
With under 10:00 left in regulation, the Preds tied it up thanks to a 5-on-3 power play. With Oliver Ekman-Larsson and Derek Morris in the box for holding and delay of game, respectively, Shea Weber wound up and blasted one past LaBarbera to even the score.
Unfortunately for Nashville, Phoenix would add another before getting to overtime. Keith Yandle got the puck in the slot and put it past Rinne with just under 2:00 left in regulation to make it 3-2.
"To give one up at that point was tough," Smithson said. "But we'll put it behind us because we did some good things tonight. We just need to work on finishing games the right way."
An alarming trend happened during this contest. Phoenix gradually registered more shots in each period. Seven in the first, 11 in the second and then a whopping 17 in the third.
Trotz made sure to point out that it's not the quantity, however.
"It's the quality of shots that really matter," he said. "We'll look at the chances against and where they're coming from and evaluate that."
Nashville is now the worst home team in the Western Conference. At 4-5-3, they've managed just 11 points inside Bridgestone Arena. Yes Preds fans, even the Columbus Blue Jackets have a better home record than Nashville.
Speaking of Columbus, the Predators will now travel to Ohio to take on their division rivals.
Puck will drop on Thursday at 6:00pm Central. All action can be heard on 102.5 The Game and seen on Fox Sports Tennessee.
LEFTOVER THOUGHTS:
* This would have been forward Cal O'Reilly's first NHL game in Nashville donning another sweater. Unfortunately, he was scratched.
* Chris Mueller was 6-1 in the face-off dot through two periods. He was only 1-2 in the critical third.
* Legwand registered a team-low minus-2 rating and a team-high six shots on goal.
* Not that he's played poorly but Rinne hasn't won a game since November 17.
* When asked his thoughts on Jordin Tootoo's two game suspension, Trotz told Josh Cooper of The Tennessean "It doesn't matter what my take is now. We'll play two games without him and when he gets back he'll be a big part of our team."
MY THREE STARS (as voted on with 7:12 left in regulation):
1) Jason LaBarbera (PHX)
2) Ray Whitney (PHX)
3) Shea Weber (NSH)
THE THREE STARS OF THE NIGHT:
1) Keith Yandle (PHX)
2) Ray Whitney (PHX)
3) Shea Weber (NSH)
—
PHOTO CREDIT: Jeremy K. Gover // section303.com