Sabres beat Preds in action-packed contest…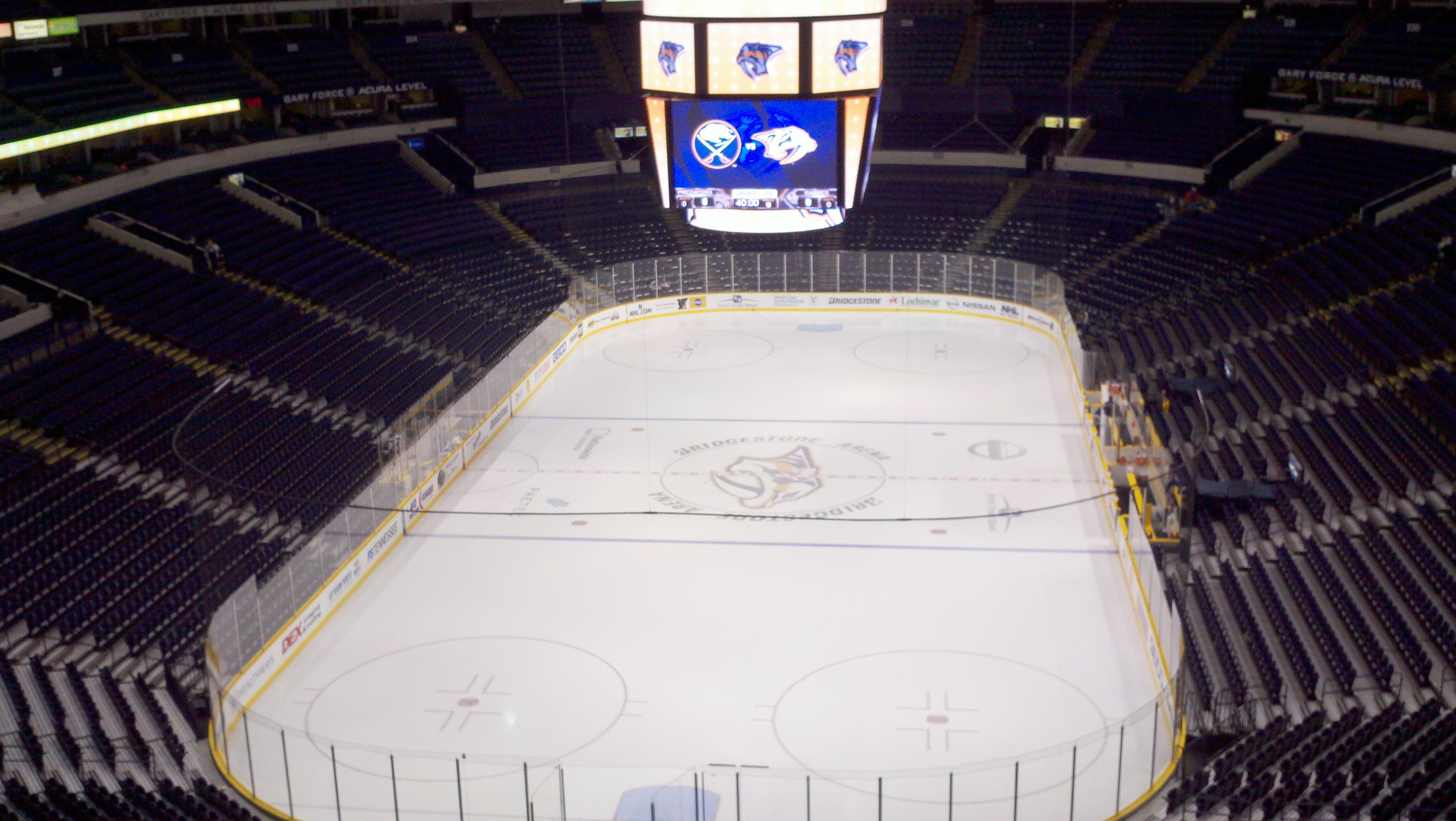 Typically a game between an Eastern Conference opponent and a Western Conference opponent doesn't involve lot of animosity.
Well, it did tonight.
The visiting Buffalo Sabres defeated the host Nashville Predators 3-2 in front of a sold out crowd of 17,113 inside Bridgestone Arena. But the score wasn't the only thing that provided fireworks.
Anders Lindback got the rare start for Nashville and turned aside 11 shots while his counterpart, Ryan Miller, made 32 saves in the victory.
This was Miller's first start since he was steamrolled by Boston's Milan Lucic on November 12. (Foreshadow alert!)
The scoring started when, with 10:00 gone in the contest, Buffalo rookie Luke Adam potted his ninth goal of the season to give his team the early lead. The action was frantic in front of the Preds net and Lindback really had no chance on the play.
In the closing minutes of the opening period, Preds rookie defenseman Roman Josi was caught out of position (and practically standing still) while Zack Kassian was breaking up ice. The former first round pick blew by Josi while he tried to get his footing and put a backhander up and over Lindback's outstretched pad for the score.
In the second period, things got hairy.
With roughly 5:00 left, Jordin Tootoo drove hard to the net but lost the puck on the way toward the crease. With Sabres defenseman Christian Ehrhoff on his back, Tootoo ran over Miller. The Buffalo netminder responded to the act by throwing punches before Tootoo even hit the ice.
To nobody's surprise, both head coaches stuck up for their respective players.
"He tried to avoid him in my estimation," Nashville's Barry Trotz said. "(Tootoo) launched himself to avoid (Miller). That's the only way to do that. I thought it was a hockey play that sorta went awry."
Buffalo's Lindy Ruff disagreed.
"You get a guy that comes off a concussion, and you've got Jordin Tootoo," Ruff said. "I want to see what the league wants to do with this one. It's a joke."
Does Trotz expect to hear from the league?
"Honestly, I don't think so because I really think it was a hockey play but it is Jordin Tootoo and it is Ryan Miller," Trotz said. "I think they'll look at it and see that there's nothing malicious."
For more on the Tootoo/Miller story (complete with video) CLICK HERE.
The Predators made things interesting in the third. Craig Smith one-timed a David Legwand pass past Miller to pull within one and get the crowd back into it. All of Smith's last four assists have come on the power play.
Just when the Preds thought they were back in it, Buffalo scored a back breaker. As Josi tried to clear the puck, a backchecking Colin Wilson deflected it along the halfwall to Derek Roy. The Sabres' alternate captain hit Tyler Ennis on the far side of the ice where he skated in and wristed a shot past Lindback for the eventual game-winner.
Legwand would add a goal in the final minutes but it wouldn't be enough on this night.
Nashville will now play six consecutive games against Western Conference opponents, starting with the Phoenix Coyotes on Tuesday.
Puck drops at 7:00pm Central.
MY THREE STARS (as voted on with 6:20 left in regulation):
1) Ryan Miller (BUF)
2) Craig Smith (NSH)
3) Luke Adam (BUF)
THREE STARS OF THE GAME:
1) Luke Adam (BUF)
2) Ryan Miller (BUF)
3) David Legwand (NSH)
—
PHOTO CREDIT: Jeremy K. Gover // section303.com