Phoenix takes a commanding lead in the series as Preds lose…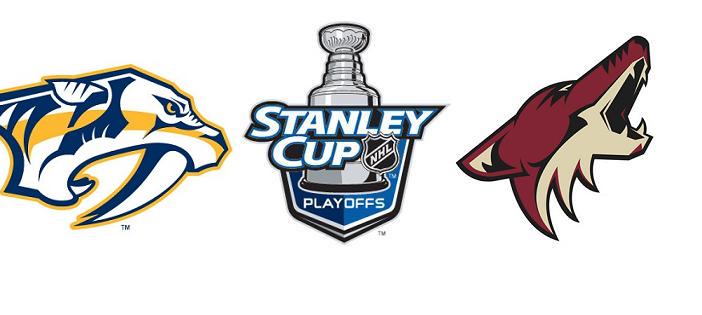 This is not exactly how they drew it up.
Already down 1-0 in the best-of-seven Western Conference Semifinal series, the Nashville Predators lost a critical game two to the Phoenix Coyotes, 5-3. The two teams will now head to Music City a two game set starting on Wednesday.
The Coyotes haven't led a series 2-0 since 1987.
Pekka Rinne made 34 saves on the night and gave up five goals for the first time since March 31. The five goals weren't exactly his fault, however. In a completely uncharacteristic performance, the defense of the Predators was porous and their decision making was subject at best. Guys were looking at pucks instead of taking their men and there was even an instance in which David Legwand caught the puck on top of the goal cage and decided to literally throw it out in front of his own net, resulting in an immediate Coyotes goal.
Despite all of that, the Preds would remain within striking distance, further proving that if they could just put together a solid 60 minute effort, they could dispose of Phoenix rather easily.
The Coyotes carried a 4-2 lead into the third period but, to start the final frame, Ryan Suter gave his team life. Using the open ice of a 4-on-3 power play, the Preds played catch around the perimeter. Weber eventually found Suter for a one-timer that blew past Smith for the goal.
Being down one in the third period is nothing new for Nashville but Phoenix would answer, putting the nail in the coffin. After yet another loss in the face-off dot, Coyotes captain Shane Doan deflected a point shot by Derek Morris past Rinne to make it 5-3.
With Phoenix up 2-0, the series will now shift to Middle Tennessee as it's Nashville's turn to host a pair of games.
If there's good news for the Preds it's that they are not familiar with three game losing streaks. They haven't lost three non-shootout games in a row since way back in November (a 6-2 loss to the Edmonton Oilers on November 22, a 3-2 loss to the Minnesota Wild the very next night and then a 4-1 loss to the Detroit Red Wings on November 26).
April and May is not the time to amass another streak.
The puck drops in Music City at 8:00pm Central on Wednesday.