Trotz adamantly confirms Preds did not know of antics prior to Game 2…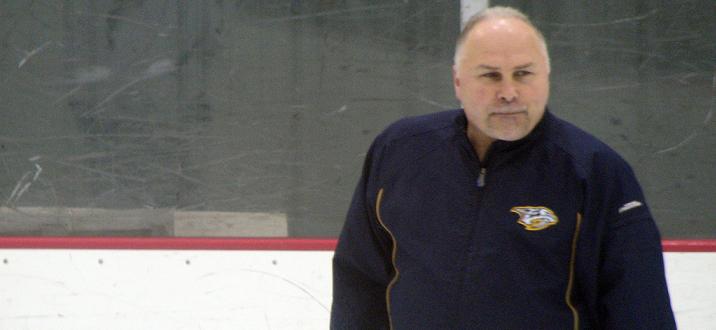 He doesn't get fired up very often. So, when he does, you pay attention.
Both Alexander Radulov and Andrei Kostitsyn have been suspended from game three (with the option for game four) for violation of a team rule. Numerous reports have Radulov and Kostitsyn in a Scottsdale, Arizona bar the early morning of game two in Glendale. This has led to some to wonder how the team could possibly not know of their antics heading into the contest.
Nashville Predators Head Coach Barry Trotz, while answering another question, offered up the following:
"I'll throw this out because I think it's been asked on a lot of shows. We did not know before game two. We found out after game two. Hell would have had to freeze over if they would have played in game two if I would have known before. Plain and simple. That's how I am, that's how the management team is and that's how the Nashville Predators are run.
"There's been a lot of speculation that we knew and that's a bunch of crap. We didn't. I just wanted to throw that out there because it's been asked a lot… but never to me."
Alrighty then.
Radulov, the team's leading scorer in the playoffs (six points), and Kostitsyn, tied for the team lead in playoff goal scoring (3), will both sit out game three and Coach Trotz fired a warning shot about game four.
"With our situation," Trotz said. "Tonight, if (they) get it done, I would expect that I'd probably go back with the same group. The group that gets it done."
And can you blame him? Tonight's Predators squad (sans Paul Gaustad and Hal Gill) is basically the Predators squad that went 36-19-7 prior to the NHL Trade Deadline. In addition, Trotz has a long history of going back to a successful well. For example, he used to have "the shutout rule" where, if  a goaltender posted a shutout the game before, they were going to start the next game regardless.
Tonight will go one of two ways. Nashville will have a completely, 100% focused effort for 60 minutes or they'll absolutely fold and Phoenix will run away with the series.
Here's to hoping for the former.
—
SPECIAL THANKS to Fox Sports Arizona's Todd Walsh who posted the audio via Twitter.
—
PHOTO CREDIT: Paul Nicholson // Flickr (used with permission)