Poile: Preds roster "still needs some tinkering…"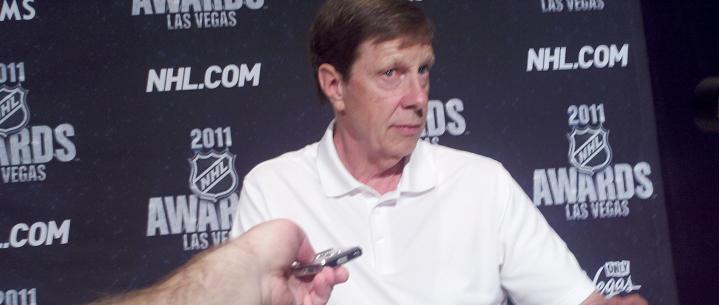 Nashville Predators General Manager David Poile has been a busy man lately. Two weeks ago, he managed to unload fourth line forward Matt Hendricks and his four-year contract in exchange for goaltender Devan Dubnyk. Then, last Thursday, he moved stay-at-home veteran defenseman Kevin Klein for the young and talented Michael Del Zotto.
Could more moves be coming?
"I think we've got a lot of really good parts," Poile said in an exclusive interview. "But, yes, we probably still need some tinkering to our lineup."
The Predators are one game over .500 (24-23-8) in the uber-competitive Western Conference. They may be just seven points out of the 8th and final playoff spot but the teams competing with them aren't exactly doing them any favors. The Winnipeg Jets were 6-1-0 before the Preds knocked them off last night, the Dallas Stars had won three in a row before dropping a 4-3 decision to Colorado on Tuesday and the Phoenix Coyotes — traditionally an average offensive team — has scored 18 goals in their last six games.
Were they an Eastern Conference club, they'd be just one point out. But they're not. As a result, they sit in 11th place.
"Where we are in the standings is not acceptable to anybody," Poile said. "We're reviewing our team, where we feel we are today, what we think we can accomplish in the last half of the season and then we have an eye on the future. Right now we're a little bit behind the eight ball but we're certainly not giving up on the season."
One asset that could be moved before the March 5 trade deadline is center David Legwand. So much so that Sportsnet recently used an entire edition of Trade Tracker to bandy about the idea of the franchise's original draft pick going elsewhere.
Legwand is the team's leading scorer (37 points) but is also in the last year of a six-year, $27 million deal. If Poile learned anything from the Ryan Suter incident it's that he can't afford to let a player walk for nothing in return. You could actually make an argument that keeping Suter at the 2012 deadline was the right move seeing as how the Preds were one of the favorites to come out of the West. This year, however, they're a fringe playoff club at best and it may be time to cut your losses and get what you can get.
This may surprise a lot of Predators fans but, to the right team at the right time, Legwand could command a first round pick. Bundle him with an underachieving Viktor Stalberg or a defenseman like Mattias Ekholm or Victor Bartley and Nashville could possibly get more than that. And, if you're not going to make the playoffs anyway, why not do it?
With Shea Weber, Roman Josi, Seth Jones, Del Zotto and Ryan Ellis, the blueline appears to be pretty well set going forward. Pekka Rinne is expected to be back to his old self when next season starts and Marek Mazanec has shown that, with time, he could be a solid back-up.
That leaves the forwards.
"We're a team that's looking to add more offensive players," Poile added.
As they should be. The Predators could use some goals. They have the fourth worst offense in the West right now (136 goals through 55 games) and had the worst offense in the league last year (111 goals in 48 games). If they can parlay any trade into an offensive weapon, they should be inclined to do so.
Trading away your leading scorer would seem to conflict with that statement but Legwand has never been counted on for offense. He's a solid two-way center who can shut down the opponent's top line night-in and night-out. It just so happens that, in this contract year, he's finding the box score. Besides, 28 of his 37 points are assists. Nashville has their share of playmakers, they need guys who can bury the puck.
Prospects such as Filip Forsberg, Taylor Beck, Austin Watson, Brendan Leipsic, Miikka Salomaki, Pontus Aberg, Jimmy Vesey and the recently called up Colton Sissons should help in the future but, then again, that's the future. Only Forsberg, Beck and Watson project to be on the big club next year (with Sissons as a wild card). Can Poile and the Preds acquire an offensive piece to the puzzle to help the effort in 2014-15?
Just as Martin Erat helped bring a stud forward to Music City in 2013, Legwand could follow suit in 2014.
Now we just have to wait and see.
—
PHOTO CREDIT: Jeremy K. Gover // section303.com