Poile: "We met Ryan's desires on every front so today is very, very disappointing."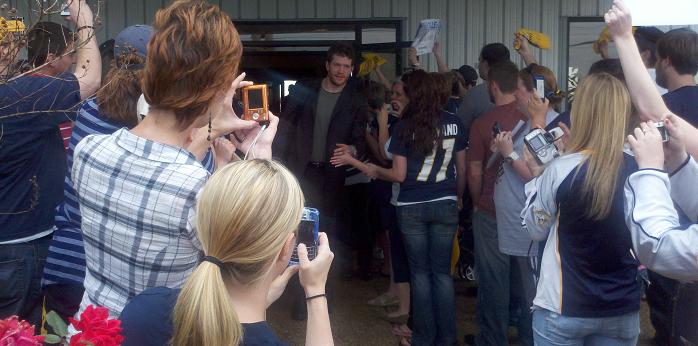 "Wherever I sign, I want to be there for the rest of my career," Ryan Suter said back on May 9.
Today, he made it abundantly clear that it won't be Nashville, Tennessee.
The Nashville Predators have officially lost the Suter sweepstakes as it was announced this morning that the All-Star defenseman has signed a 13-year deal worth $98 million with the Minnesota Wild. Star forward Zach Parise also inked a deal with the Wild for the exact same term and dollar amount. Both players cap hits will be $7.538 million per year.
Parise told Josh Rimer on NextSportStar.com's Nite Cap show just last night that he would he would "love to play on a team with Ryan Suter." Today, he got his wish.
This leaves a huge void in the Predators defensive corps. Suter was not only the alternate captain but he was an NHL All-Star, he was Shea Weber's defense partner as well as his right-hand-man and he's generally regarded as one of the top five defensemen in the league. You don't lose a piece that important without feeling a dramatic effect.
Predators General Manager David Poile sounded beyond disappointed in his conference call with the media this afternoon.
"(Suter) told me today that our offer was 'substantial' but that it was not about the money," Poile said. "So I said, 'Then I don't know why you're not re-signing with us.' And he told me it was for family reasons. That's where the disappointment comes in.
"The disappointing part is that's not what we talked about all year long. I think we met Ryan's desires on every front so today is very, very disappointing."
Poile was tremendously loyal to Suter through the entire process. He kept in constant contact with his agent Neil Sheehy, he refused to field offers at the trade deadline despite knowing the return would be huge and he didn't even trade his negotiating rights at the NHL Draft when he could've at least got something for the impending free agent. He wanted to remain loyal to his 2003 first round draft pick but. apparently, Suter didn't want to return the favor.
"I was looking at all my notes (from our conversations) yesterday and Ryan had said in November that he's not going anywhere else. He is signing with the Nashville Predators. That's a quote," Poile said.
All along we've heard the "it's not all about money" mantra from Suter and that appears to be true given the lower-than-anticipated $7.5 million-per-year offer he just signed. However, one thing that Suter claimed to be important seems to be down on the priority list now: his desire to play for a contender for the rest of his career.
The Minnesota Wild finished close to the basement in a terrible Northwest Division, they finished 14 points out of a playoff spot and have average goaltending at best. Additionally, the Wild had the 17th best organizational depth in the NHL according to last summer's rankings by Hockeys Future. For contrast, Nashville's system was ranked 7th.
"We talked about a winning team and I think we represented that to Ryan," Poile said. "We're the only team in the Western Conference that's gone to the second round each of the last two years, we've got the number one power play in the league, our goaltender is a Vezina Trophy finalist two years in a row, Shea Weber's a finalist for the Norris Trophy and we've got a great coaching staff. Our commitment to spend and to win; no team in the league did more at the trading deadline than the Nashville Predators."
Without an all-world goaltender like Pekka Rinne between the pipes and without a back-to-back Norris Trophy runner-up in Weber to skate with on a nightly basis and without a pipeline that consists of names like Ryan Ellis, Roman Josi and Mattias Ekholm, is Minnesota really that much closer to winning a Stanley Cup than the Predators would have been had Suter returned?
Poile's main priority, now, becomes Suter's former defense partner.
"Our focus turns to our captain Shea Weber," Poile said. "He's the player we want to build our team around. We want him to be in Nashville for years to come."
There may be a problem with that, however.
Weber is a restricted free agent and well-respected NHL insider Bob McKenzie reported on TSN's July 1 Free Agent Frenzy broadcast that Weber wouldn't sign an offer sheet specifically because he knew the Predators would "match any offer." Therefore, if Weber signed an offer sheet, the Predators would match and would have him locked up for a long time, something the three-time All-Star doesn't want if Suter's not around, McKenzie said.
So now, in a sense, you can begin "Weber Watch." Do the Predators trade him for a king's ransom and re-load? Do they back up the armored truck to his house and re-sign him? Does he accept a qualifying offer at $7.5 million and just get through next season before becoming 2013's version of the Suter circus?
Almost on accident, this is now Poile's most important off-season as General Manager of the Predators. Whatever he and Weber decide to do will change the course of the franchise for the next few years. If not longer.
—
RELATED READING:
PHOTO CREDIT: Jeremy K. Gover // section303.com