Suter left and Carle's no longer available… so who's left for Nashville?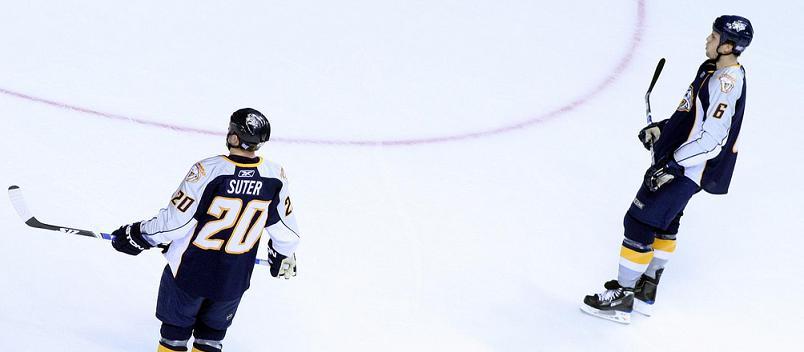 When Ryan Suter signed with the Minnesota Wild yesterday, most assumed Matt Carle was "Plan B."
The Nashville Predators better have a Plan C.
Suter's departure leaves a void in the Nashville defense corps in which no Predator prospect — at least this season — is ready to fill. Carle was believed to be the best option to replace Suter as their numbers were similar, they're both left hand shots and they're even the same age. Unfortunately, Carle signed with the Tampa Bay Lightning last night, taking him off the market and leaving the remaining free agent class pretty thin on the blueline.
If General Manager David Poile choses to go the free agent route, there are only a couple names that would be suitable short-term solutions. (And we use "suitable" loosely).
Carlo Colaiacovo
At 29 years old, he's in the prime of his career but has mainly spent time with struggling franchises. After being drafted 17th overall by the Toronto Maple Leafs back in 2001, Colaiacovo never fully realized his potential with the Leafs. He then moved onto the St. Louis Blues via trade in 2008 and immediately began putting up the numbers experts thought he would originally. In four seasons with the Blues, he never played a full 82-game slate yet had seasons of 29, 32 and 26 points, respectively, before struggling last year with a mere 19 in 64 games. Furthermore, since coming over from Toronto, he's played a supporting role on St. Louis' special teams much like Suter did in Nashville. Colaiacovo lead the Blues in power play assists in 2008-09 and then tied for second in that category in 2010-11. He's only appeared in two post-seasons — both with St. Louis — so whether he can handle the big stage is a question mark but he could compliment back-to-back Norris Trophy finalist Shea Weber in enough areas that would make the transition from Suter to someone else appear smooth.
Carlo Colaiacovo busted onto the St. Louis scene in November 2008 after being acquired in the deal that sent Lee Stempniak to Toronto in exchange for Alex Steen and the Toronto-native defenseman. Colaiacovo instantly became a hit with the fans as he had transformed into the Blues' top offensive defenseman. In his first full season in St. Louis (2009-10), Colaiacovo posted 32 points and was a plus-8 for the Blues, who failed to make the playoffs for the fourth time since the lockout. Since that year, Colaiacovo has seen a steady decline in his numbers and performance. He has faced many injury problems, ranging from hamstring issues to concussions. Last season, Colaiacovo tallied just two goals and 19 points in 64 games played. Blues Head Coach Ken Hitchcock demoted Colaiacovo's playing time, as he had slid down to the fourth-defenseman-type minutes (19:00 average per game). The 29 year old defenseman saw the writing on the wall in Game 4 of the Western Conference Semifinals when Hitchcock sat him as a healthy scratch when the Blues were eliminated by the Los Angeles Kings.
– Jeff Ponder, StormTheCrease.com
Cam Barker
This is more like a Plan G but, when the free agency pool is this shallow, why the heck not? If you need a band-aid while looking for a long term solution, and/or waiting for Roman Josi to be ready for prime time minutes, you could do worse. Barker, the former 3rd overall pick (2004), has just one good season under his belt. If you're desperate, does that warrant taking a flier on him? While a member of the Chicago Blackhawks in 2008-09, Barker posted 40 points in just 68 games. He even led the Chicago blueline in power play assists with 24 that season. Since then, however, he's had difficult tours with the Minnesota Wild and Edmonton Oilers and hasn't come anywhere near his 40 point outburst. Additionally, he's missed a ton of time. If you bring in Barker, you're bringing in a guy who's under-achieved, who's injury-prone and who's been cast off of bad teams. Do you really think he'll stick on a good one?
Since that 2008-09 season in which Barker scored those magical 40 points, he has 28 points. Three seasons, a grand total of 147 games out of a possible 246. He's missed nearly 100 games in that span, has done absolutely squat for the teams paying his ridiculous salaries, and likely laughed all the way to the bank.
– Bryan Reynolds, HockeyWilderness.com
***
Considering there are only about one and a half "desirable" options on the free agent market, Poile may be forced to go the trade route in order to find Suter's replacement. The good news is there seems to be a handful of guys who could better fit the bill than the available free agents. The bad news is it's going to cost Poile assets, not just dollars, to get any of them.
Jay Bouwmeester
Since the Florida Panthers took him with the third overall pick in 2002, Bouwmeester has played 10 seasons, played in 717 NHL games, tallied 285 points and has amassed 110 power play points. Not bad, eh? But he's also been to zero — that's right, zero — post-seasons. He's played in more NHL games than anyone in his draft class (including Columbus Blue Jackets superstar Rick Nash) and yet still hasn't been to the playoffs. Sure, he's been on some terrible Panthers and Calgary Flames teams but it's a red flag when a player who's so highly touted coming out of junior and who consistently puts up those kinds of numbers hasn't been part of the solution even once. Another red flag is his price tag. Okay, so he's locked up for another two years but at a cap hit of $6.68 million per? Yikes. That being said, would he realize his potential skating alongside someone like Weber? Needless to say, he's never had the caliber of player Weber is in a defense partner before. Perhaps that would be enough.
What's there to say about Jay Bouwmeester that hasn't already been said by every Calgary Flames fan? Marked as a disappointment by the fans, laughed at by most other NHL teams, and haunted by his success in Florida, Jay Bouwmeester is an odd choice for any team to vie after. His minus-21 rating average does nothing to entice teams and as a defensemen at his price ($6,680,000 cap hit) talent has fallen short of expectations. Bouwmeester's lack of skill defensively overshadows his offensive skills, he registered 24 assists last season. Not exactly earth shattering but credit where credit is due. Another highlight of Bouwmeester is his endurance, he hasn't missed a game in 8 years. A foot injury on March 6, 2004 side lined him, but since then there's been nothing, something important for a team looking to make a run at the Stanley Cup. The Flames haven't been able to capitalize on this endurance but, if they are looking to move him, that (plus his assists) should be a nice selling point. No tears will be shed by Flames fans if Bouwmeester is moved this off season, but his offensive contributions will be missed in the stat books.
– Cati Platt, Flame for Thought
Tobias Enstrom
The Swedish blueliner has been on bad Atlanta Thrashers/Winnipeg Jets teams his whole career, yet has seemed to make the most of it. He's a two-time 40-assist man, a two-time 50-point man and was even a plus-14 on a horrendous Atlanta club that won just 35 games and finished with the fourth worst record in the league. He had a little bit of a hiccup in his production last season (33 points in 62 games) but was still a contributor on the power play. The 27-year old Nordingra, Sweden native has one year left on his contract and his cap hit would be $3.75 million despite actually making $4.5m this season (contract was back loaded). He could slide right into Suter's vacated spot in the lineup and the team wouldn't miss a beat. Enstrom seems to be the best option but, naturally, he may not even be available. If you were Poile and he were locked up for several more years, it would be easier to part with a blue chip prospect or two, but considering he'll only be around one more year before becoming an unrestricted free agent, it makes that pill a little harder to swallow. That being said, in a perfect world, Enstrom's one of the best Suter substitutes.
Despite his small stature, Tobias Enstrom has solidified himself as one of the best puck possession defensemen in the NHL. His greatest asset is his offensive flare — predominantly on the power play — with which he has scored at over a 0.54PPG rate during his five year NHL career. However, Winnipeg has also heavily relied upon his ability to play in any given situation (PP,ES,PK) which is evidenced by his 24:00 TOI. Enstrom would be an upgrade to any NHL defensive corps and is capable of a top pairing role, as well as best slotting in as a power play quarterback.

–

 

T.J. Maughan

,

Arctic Ice Hockey
Paul Martin
It was rumored that, if the Pittsburgh Penguins landed Suter during free agency, there was a deal in place to send Martin to the Preds. Not only to clear some cap space ($5 million a year for the next three years) but also because Nashville would need a serviceable veteran defenseman stat. The former Minnesota Golden Gopher is a 30-point guy at best and doesn't have the same potential of a Suter or even a Josi. What he does have, however, is loads of power play experience and a left-handed shot to compliment Weber's right. The Minneapolis, Minnesota native being 31 years old means he's no longer in the prime of his career but the fact that he's under contract for three more years is a good thing if the Predators like what he brings to the table. He's probably better suited for the second defense pairing but Nashville may be able to plug him in while Josi ramps up to those top-line minutes.
He's not going to score a ton of goals. He's not going to deliver crushing hits, play a physical game, and his style of play doesn't result in a large number of blocked shots (that's because when he's on the ice his team usually has the puck — more on that in a second). But while his "box score numbers" (two goals, 23 assists, 117 blocked shots, only 24 hits) can leave you with an empty feeling, his underlying numbers would seem to suggest that he was a bit more valuable to the Penguins than he was given credit for during the season.
– Adam Gretz, Eye On Hockey
Keith Yandle
The best defenseman the Phoenix Coyotes organization has had since Teppo Numminen is rumored to be available. The snag here, though, is would GM Don Maloney trade Yandle within the conference? Most think he wouldn't and that's where this becomes more of a fantasy than an actual possible trade partner. Still though, he's on the block and that's good enough for us. After all, when one of the league's best defensemen leave you hanging, desperate times call for desperate measures and, if Yandle's your guy, you may have to over pay to get him. The 25-year old is affordable at $5.25 million a year and, better yet, he's locked up until 2016. The two-time All-Star is just now starting to come into his own and his production could reach new heights with Weber by his side. Furthermore, the Coyotes and Predators are similar in structure and philosophy so it wouldn't be a culture shock moving from Phoenix to Nashville. The pride of Milton, Massachusetts has a bright future ahead of him and, if the Coyotes organization needs to start selling off it's assets because of possible relocation, this may be perfect timing for Poile to swoop in and grab the alternate captain.
Keith Yandle is a still maturing as a blueliner.  His game regressed in the 2011-12 season, but he's only 25 years old which is normally about the time defensemen begin to hit their prime years. His strengths are his above average skating, shot, leadership and ability to pass the puck when confident. He's broken the 40 point mark each of the past three seasons.  He's also broken double digits in goals during those 3 seasons as well. He has the ability to take the puck end to end when he wants to due to his skating and puck handling skills. This past season he was named as one of the assistant captains in Phoenix.

For a an two time all-star defensemen he has a fair amount of weaknesses. Because he's neither positionally sound consistently or a physical type of player he loses puck battles. Therefore his pairings tend to get trapped in their own zone at times. This past season he struggled to drive play against fairly weak competition and for the second season in a row he struggled against physical opposition in the playoffs. His decision making at times appears to be related to how confidence as opposed to being situational.

He's also done little damage on the power play while in the NHL even though he's been given extensive PP time with the Coyotes and his skill set would make one assume he'd be a great weapon to have with the extra man advantage. However, Phoenix's power play has been a nightmare during his time in the Valley, so its hard to truly tell how much of his lack of success is his own doing.

–

Carl Putnam

,

Five for Howling
—
Ryan Porth of Smashville 24/7 contributed to this post.