Pond hockey in Nashville? Imagine playing on the Cumberland…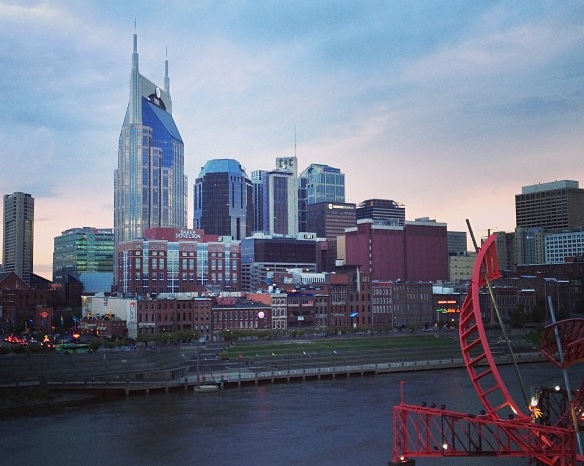 Imagine this scene: the backdrop of the Nashville skyline with a body of water so frozen that people can grab some sticks and lace up their skates. In other words, imagine pond hockey on the Cumberland River.
Recently, we've seen it in Akron, Ohio. We've seen it in Carmel, Indiana. We've even seen it as close as St. Louis, Missouri. But could we ever see it Nashville?
"There are four total [known] instances of the Cumberland River freezing over," said Justin Bruce, a meteorologist at WKRN News 2. "The first dates back to 1779 when settlers first arrived. The last time was January 25 through 29, 1940."
Recently, Nashville has been blasted with some abnormally cold air. In the month of January, we spent seven days in single digit temperatures, including hitting negative-2 on two separate occasions. None of those stints saw freezing temps last longer than two and a half days, however. As a result, the Cumberland continued to flow.
So what would it take in order to provide the beautiful aforementioned scene?
"You'd need about one week of sub-zero low temperatures and highs only in the teens," Bruce explained. "The cold spell leading up to that 1940 freeze is hard to pin down day-to-day but, on January 19, 1940 the low was minus-5 and the high was 12. Eight mornings later, on January 26, 1940 the low was minus-15 and the high was 16."
So, basically, a week long cold spell that averages (and doesn't stray too far from) single digits.
Most Nashville Predators players grew up where pond hockey was the norm and they recall it fondly.
"It was phenomenal," defenseman Victor Bartley said. "I remember the first time going on in my back yard. As soon as I touched the ice for the first time I realized this is what I love to do. It's been that way since I was three years old. Nothing's changed since."
Rookie winger Taylor Beck agreed.
"It was just pure joy," the Niagara Falls, Ontario native said. "My buddy always had one and it was always great. Whenever we had a day off, it was something you lived for as a kid."
Like those in Middle Tennessee, one of the newest Predators didn't get to experience much pond hockey growing up. Despite being Canadian, Colton Sissons was a stranger to the event so he can identify with most around here.
"I grew up in Vancouver so pond hockey wasn't very common," Sissons said. "I did have a few experiences when I went up north to visit my dad when he was working up there. It's cool when the breeze is flowing and it's pretty chilly. It's nice skating on a fresh lake. It's a little bit of a rough ride though because the Zamboni's don't get out there too often."
Many hockey playing Tennessean's wouldn't care if the ice was rough. Simply the possibility of skating between LP Field and the bat building is a dream.
Too bad it'll probably remain one.
In 1985, it hit minus-17 in Nashville and then, the very next day, was only a single degree warmer. That wasn't enough to freeze the river. Going back a little further, in 1963, we had three consecutive days of sub-zero temps but the river didn't freeze then either. Turns out, the mercury reading isn't the only factor in the Cumberland freezing.
"The construction of Old Hickory Dam in the 1950's means that the river moves a lot more now than it did back in the 1940's since the Army Corps of Engineers is often releasing water through the dam to generate power," Bruce explained. "So that would also be a big factor in keeping the river from freezing."
If the odds weren't already stacked against Middle Tennessee from playing a little pond hockey on the Cumberland, the dam makes it near impossible. Preds defenseman Ryan Ellis said if the opportunity ever does present itself, however, it shouldn't be missed.
"It was just a lot of fun," he said. "I loved playing outside. It wasn't so much a hockey game as it was more of a place where you'd just work on stuff. That's where guys developed their hands and creativity. We couldn't wait until it got cold enough to skate on ponds and lakes."
Maybe someday kids in Nashville will get the chance.
"Getting temperatures substantially below zero for a week would be a once in a century occurrence," Bruce said.
Buzz kill, Justin. Buzz kill.
—
PHOTO CREDIT: Sarah Fuqua (used with permission)