Predators announce Playoff Tickets, Pedigree Adoption Day on Saturday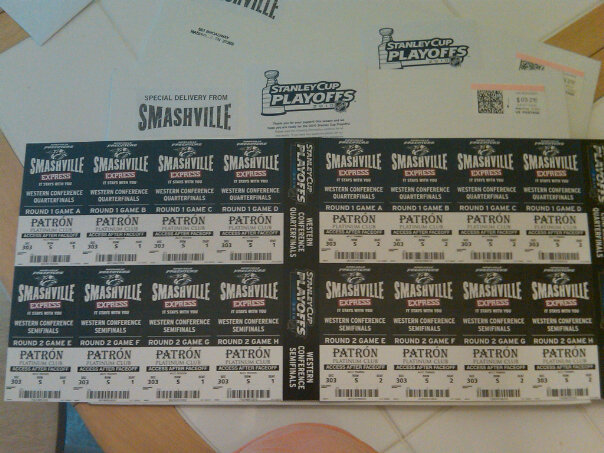 Nashville has unfinished business after last year's playoffs, and now is your opportunity to secure tickets for this year's run for the Cup.  Section303.com has a soft spot for animals, so also be sure to check out the Pedigree adoption drive on the plaza.
PREDATORS STANLEY CUP PLAYOFF TICKETS ON SALE THIS SATURDAY

-Nashville gearing up for sixth trip to NHL Stanley Cup Playoffs in last seven years –

Nashville, Tenn. (March 31, 2011) – The Nashville Predators announced today that individual tickets for the first round (Western Conference Quarterfinal) of the 2011 Stanley Cup Playoffs, presented locally by Fifth Third Bank, will go on-sale to the general public this Saturday, April 2 at 10 a.m. Tickets are available at the Bridgestone Arena box office, all Ticketmaster outlets, ticketmaster.com, nashvillepredators.com or by calling 615-770-PUCK (7825). Ticket prices start as low as $26 per game. For the first time, the Predators will utilize value-based pricing; meaning that prices may increase as ticket inventory is reduced.

"Nothing is more exciting in all of professional sports than the Stanley Cup Playoffs," Nashville Predators CEO Jeff Cogen said. "With home ice in the first round still a very real possibility, now is the best time to secure your tickets to all of the tremendous action! Once the Predators playoff opponent and dates have been confirmed, given value pricing, it is likely prices will go up. To ensure the best available seat and price, make sure to take advantage of this early on-sale opportunity. Now is the time we are asking all residents of Smashville to Stand With Us."

All Stanley Cup Playoff series are best of seven and scheduled to be played on a 2-2-1-1-1 format, and the first round of the 2011 NHL post-season will open on Wednesday, April 13. The three division winners in each conference will be seeded first through third in order of points, and the next five-best teams, in order of points, will be seeded fourth through eighth. The team seeded No. 1 will play No. 8, No. 2 takes on No. 7, No. 3 meets No. 6 and No. 4 battles No. 5 in the Conference Quarterfinals.  

Plaza Party – In celebration of the playoff on-sale and special 2 p.m. start for Saturday's matchup against the division-rival Detroit Red Wings, the Preds have also announced a pre-game plaza party, kicking off Saturday at 9:30 a.m. Plaza activities include live music, a beer garden, PEDIGREE ® Adoption Day and much more!