Predators announce pro shop deal; will donate surrendered jerseys to charity…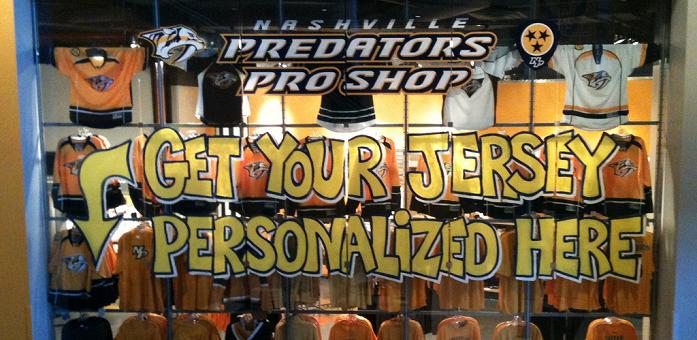 The Nashville Predators go "all-in" again. This time at the Predators Pro Shop inside Bridgestone Arena.
When Executive Vice President and Chief Sales Officer Chris Parker went on 102.5 The Game's First Quarter show Tuesday morning, he unveiled an exciting marketing plan in an effort to further their "Keep the Red Out" campaign.
"We want to start motivating people to go gold," Parker said. "We know there are a lot of Red Wings fans who have migrated to the area. We want to convert those people. Starting today, if you're a Red Wings fan and you're ready to really commit to the Predators… we will give you 50% off a Predators jersey if you exchange your Red Wings jersey."
The Pro Shop should see a fair spike in sales due to this promotion but, even more so, the Nashville organization should see a tremendous spike in PR value. Why? Because of what Parker unveiled next.
"We're going to take those jersey's that we collect," Parker explained, "we're going to clean them, dry clean them, wash them and we're going to send them back to Detroit to a worthy charity."
The good news for regular Predators fans is that you're not left out of the promotion. You can buy a home gold Predators jersey for 20% off the regular price.
You can listen to the interview segment, complete with Parker's comments, below.