Predators don't give Rinne much of a chance, lose to Kings…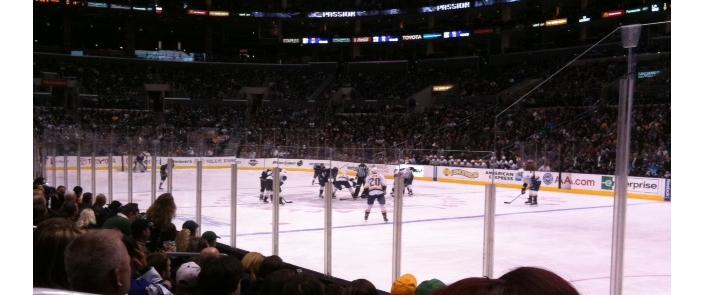 In front of 18,118 inside Staples Center, the Nashville Predators tried to guarantee themselves a winning record on their four-game West Coast road trip. Instead, they fell to 1-1-1 with only a game against the Anaheim Ducks left on the docket.
The Los Angeles Kings, who are fighting for their playoff lives, took advantage of numerous Nashville mistakes and won a critical game for them, 4-2.
He may have had only 23 saves on the night, but don't blame Pekka Rinne for this loss. He gave his team a chance tonight but, unfortunately, his team didn't give him much of one. The last two goals in particular were complete defensive breakdowns in front of him and he had no chance.
Anze Kopitar got things started for Los Angeles. Using Ryan Suter as a screen, Kopitar came off the boards, turned into the high slot, and tucked a shot under the crossbar for the early 1-0 lead.
With Kings captain Dustin Brown sitting in the penalty box, the Predators were able to tie it up. Shea Weber got the puck to Ryan Suter who was waiting at the blueline. Suter then fired it over to Martin Erat in the far face-off circle who, in turn, fired it past netminder Jonathan Bernier for the first Nashville goal.
Late in the game, Kings fans were able to celebrate with their bottles of syrup as Dustin Penner bagged his sixth goal of the game after breaking in 2-on-1 with Trevor Lewis.
Nashville wouldn't make things any easier for themselves when Jordin Tootoo turned the puck over in the neutral zone (moments after nearly turning it over in his own zone, mind you). Dwight King corralled the puck, took the blueline and fired a shot past Rinne to make it 3-1.
The Kings would make it 4-1 on a Kyle Clifford goal, just his fifth of the season, in the waning moments and while Mike Fisher would tally just moments later, Los Angeles had put this one out of reach.
The Predators will go with Anders Lindback in net tomorrow night against the Anaheim Ducks. Anaheim needs serious help in order to get into the playoffs and a win against the Preds would certainly help their cause. They're currently 11 points back of eighth place San Jose in the Western Conference standings. With 10 games remaining on their schedule, they're going to bring a desperate level of hockey to a tired Predators team who played just 24 hours before.
Puck drops at 7:00pm Central.
—
PHOTO CREDIT: Carrie Rashford // special to section303.com