Predators hope to build tradition with Thanksgiving game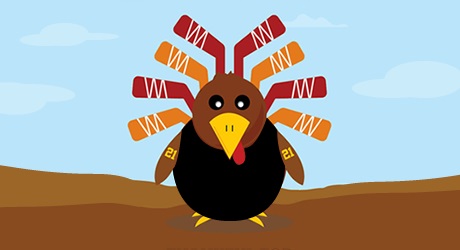 Ask most sports fans if a non-traditional hockey market should host a game on Thanksgiving night and most would answer in the negative.
The Nashville Predators, however, hope to build an annual tradition in doing so.
"When we put it together, it was a pretty lively debate," team President and Chief Operating Officer Sean Henry said. "We argued about it for a long time. Is it good for the staff? Is it good for the season ticket holders? But, you know, it's also nice to have a tradition."
Nashville will face off against the Edmonton Oilers tonight at Bridgestone Arena in just the fourth Thanksgiving home game in the 15-season history of the franchise.
It's one thing for a teams' brass to submit the availability date to the NHL but it's quite another for the members of the team to give up a major holiday in order to play a game. While most are from countries other than the United States, spending time with family and friends is a rare occurrence for a player and would naturally be a welcome opportunity.
"It's a fact of life in pro sports that you're probably playing during the holiday season," Head Coach Barry Trotz said. "I know Christmas time is pretty short for us. We've played on the 23rd as far away as Phoenix, got home in the morning of the 24th but then, at seven o'clock at night on the 25th, I've said 'I got to get back to work' because we play on the 26th."
We often forget the human side of the sport in which a son or daughter is playing a soccer game without one of their parents in attendance or even a Thanksgiving dinner without daddy at the table. Those involved, however, know the pain all too well but also know that they have to accept it in order to reap the rewards that an NHL career offers.
"If you're in this business, holidays are very short, birthday's have to be changed and you miss some important events in not only your life but also the life of your family members," Trotz said. "It's just a fact of life. We get a lot of glitz and glamour and we get paid very well but there are some things that you do end up missing as a pro coach or pro athlete in our business."
Reasons vary from fighting off tryptophan to wanting relief from annoying family members but, after most fans are done with their Thanksgiving feast, many look for a way to get out of the house. With most businesses being closed (or with long lines), most opt to go see a movie. The Predators hope to become the preferred alternative for the sports fan.
Henry, the former COO of the Tampa Bay Lightning, is no stranger to holiday games in non-traditional markets.
"When I was with Tampa, we were adamant that New Year's Eve was going to be the greatest hockey date in the history of the world," he said. "So we agreed to do it and had a gentleman's agreement with the league that, if we do it this year, they give it to us next year. We ended up doing it for three years in a row but we stopped. Not because it didn't sell well but because we were 0-3. And it wasn't just that we were losing, we were getting killed."
In the three games Henry talked about, the Lightning did get killed, losing by a combined score of 13-6.
"We were a little superstitious," Henry admitted.
Speaking of superstitions, the Predators are 3-0-0 all-time on Thanksgiving Day so they're on the opposite end of the spectrum from Tampa. In 2005, they beat the Los Angeles Kings 4-3, a year later they blew out the Vancouver Canucks 6-0 and then, in 2007, they upset their arch rival, the Detroit Red Wings, 3-2.
Can they keep that trend going against Edmonton tonight?
If they continue to win, a hockey game in the non-traditional hockey market of Nashville might become the place to be on Thanksgiving for years to come.
—
SPECIAL THANKS to our friends over at Vanderbilt Hockey for the headline image.