So you want to fire Barry Trotz?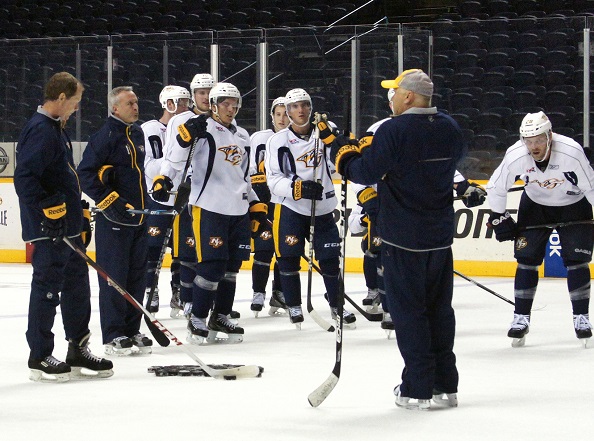 A lot has been written lately about whether the Nashville Predators should make a switch behind the bench. Some in support of Head Coach Barry Trotz and some in support of a change. But, before you make up your mind one way or the other, let's look at the facts.
The Preds are just one game below .500 in a season where they've seen two-time Vezina Trophy finalist Pekka Rinne (20 games), two-time Norris Trophy runner-up Shea Weber (3 games), two-time team-leading goal scorer Patric Hornqvist (3 games) and their top line center Mike Fisher (7 games) all miss time.
All things considered, that's not too bad.
Additionally, the Western Conference is stacked. Nine of the top 10 teams in the West have single-digit regulation losses. The East, by comparison, has three. Heck, if Nashville were in the East, they'd be just two points out of a playoff spot and this probably wouldn't even be a conversation. Instead, they're 10 out.
The frustration in the fan base is overwhelming, however. They see a team with talent up front in Hornqvist, Colin Wilson and Craig Smith, a veteran forward in his prime who was a healthy scratch to start the season in Viktor Stalberg and a young, dynamic rookie who could be a difference maker if he were only given the chance to play in Filip Forsberg. They see all that potential and no goals. This, of course, all plays into the long-standing reputation that Trotz can't coach offense.
So you want to fire Trotz? Okay, fine. Are you firing him because this roster is so good from top to bottom that the problems must be coach-based? It doesn't take an expert to look at this club on paper and see far too many third and fourth liners. Nick Spaling, Eric Nystrom, David Legwand, Rich Clune, Matt Hendricks, Matt Cullen, Gabriel Bourque and Paul Gaustad are all bottom six forwards on every other team in the National Hockey League. And on half of the teams, you can even lump Smith into that mix as well. Each bring something to the table and is valuable in his own way but are they consistent, go-to offensive players? No.
"I don't think we can look to one guy," Trotz said. "I don't think we're built that way. We've got guys on our fourth line that have as many goals as guys on our second line. We've got to find ways to produce."
Last season, the Predators scored a league-worst 111 goals (in 48 games). This season, they have the worst offense in the West (and third worst in the league), having scored just 67 goals in 30 games. In case you don't want to do the math, that means they're on pace for 107 goals through the 48 game mark and just 183 goals for the entire year. That 183, by the way, would tie the franchise low for a full season (2002-03). Even Rinne, with the outstanding career goals-against average of 2.36, would have trouble keeping this team in games with that kind of offensive support.
While goal scorers don't exactly grow on trees, you have to wonder why Nashville hasn't been able to add one to the mix.
All we heard last summer was "We need a top six forward." The three elite forwards went 1-2-3 at the draft in July so Nashville was dependent on free agency to deliver. But then the Toronto Maple Leafs gift-wrapped one. Mikhail Grabovski, a sure-fire top-six forward with a reasonable price tag ($5.5 million a year for four more years), was put on waivers for the purpose of being bought out just days before free agency opened. It was a perfect storm. Nashville wouldn't have to outbid other teams and they wouldn't have to convince anyone to come play in Music City. If they claimed him, he was theirs, no questions asked. They could have guaranteed themselves a three-time 20-goal scorer in the prime of his career at 29 years old.
But they didn't.
"If we had done that, we couldn't have done anything else," former Associate Coach and current Hockey Operations Advisor Brent Peterson told us on The 303:30. "We just thought we'd rather have four or three really quality players for the same money that can also fill our need for toughness."
So we've agreed there are very few scorers on this hockey club. Still want to fire Trotz? Okay, fine. You can't just replace Trotz with anyone. Who do you have in mind? More importantly, did coaching changes help the other expansion teams? The Atlanta Thrashers/Winnipeg Jets have yet to win a single playoff game in their existence. Same goes for the Columbus Blue Jackets. The Minnesota Wild have been to the playoffs just four times ever. Finally, the Florida Panthers have been to the postseason just twice – winning just three playoff games total – since the Predators' inception.
Trotz, conversely, has led the Predators to the playoffs seven of the past nine years, gotten out of the first round in each of their last two trips and were a hot goaltender away from going to the Western Conference Final in 2012. As bad as last season was, it was Nashville's first losing record since 2002-03 and it came in a year where the prize was a young stud named Seth Jones.
"I never want to be a bad team," General Manager David Poile told Sports Night last April. "I don't want to come to this lottery ever again. But, if there was ever a year to be here, this is a good year."
Recent Stanley Cup winning teams have built through the draft, as a matter of fact. For example, the Pittsburgh Penguins drafted Evgeni Malkin second overall in 2004 and then Sidney Crosby first overall in 2005. Chicago drafted Jonathan Toews with the third pick in 2006 and then Patrick Kane with the top choice a year later. The Penguins went to the Final in 2008 and then won it all in 2009 while the Blackhawks have now won two of the last four Stanley Cups.
Obviously, it's not always like that. The Edmonton Oilers had the top overall pick in 2010, 2011 and 2012 but haven't gotten into the playoffs even once, let alone won a Cup. Good organizations with solid structure, however, can excel with top talent in the fold. The Predators are the definition of a good organization with a solid structure. As a fan, would you be willing to suffer through three or four horrendously bad seasons in order to collect elite talent at the top of the draft and build a winner that way? Or would you rather the team remain competitive on a year-in and year-out basis but play defense-first hockey and routinely choose in the #15 to #25 range every June? Very rarely can you have it both ways.
The point of all this? The fact that fans are calling for his head is a testament to what Trotz has built here in Music City. He's taken an expansion franchise from its inception and built a fanbase that expects to win. So much so that, when they don't, fans are up in arms and ready for a change.
So when you say "Fire Trotz!" you're actually paying him the ultimate compliment: "Thank you for building a winner."
—
PHOTO CREDIT: Sarah Fuqua (used with permission)