Preds beat Hawks, head into All-Star Break with 30 wins…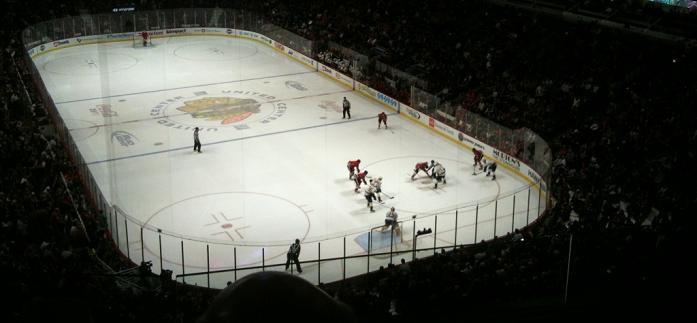 Coming into Tuesday night, both teams knew that whoever won was going to take over third place in the Central Division.
Your Nashville Predators are now in third.
The 21,279 inside United Center witnessed their beloved Chicago Blackhawks drop a 3-1 decision to the Preds, thereby falling behind Nashville in the Western Conference standings by way of less wins.
The Preds will head into the NHL All-Star Break with a 30-16-4 record.
Speaking of a ridiculous record, Pekka Rinne continued his Vezina Trophy dance, making 25 saves on 26 shots to extend his consecutive win streak to nine games.
The 6'4″ Kempele, Finland native is 28-11-4 on the year. He needs just six more wins the rest of the way in order to post his best season ever.
Rookie Craig Smith opened the scoring midway through the opening period. With newcomer Brandon Yip planted in front creating a screen, Smith fired a wrist shot past Corey Crawford.
The Preds weathered a Chicago storm and then added insult to injury by scoring again. After the Blackhawks had the Preds hemmed in their own end for what seemed like an eternity (Ryan Ellis was on the ice for 2:23), Nashville was finally able to lead a rush the other way. Patric Hornqvist, tied up behind the Chicago net, kicked a pass to Mike Fisher who buried the second goal of the game for the visitors.
"Sometimes in this game, you have to survive shifts and we survived that one," Head Coach Barry Trotz told FS-Tennessee during the first intermission. "The game's all about weathering storms."
In the final period, Chicago used a Dave Bolland goal to generate some life but it was too little, too late as the Preds closed out their pre-All-Star Break schedule with their 30th win of the season.
The team (read: non-All-Stars) will have six days off before heading to Minnesota next Tuesday night to take on the Wild.
Puck will drop at 7:00pm Central but, before you worry about that, enjoy NHL All-Star Weekend where Smith, Shea Weber and Ryan Suter will be featured.
—
PHOTO CREDIT: Samantha Garivay // special to section303.com (used with permission)