Preds beat Leafs in event-filled contest…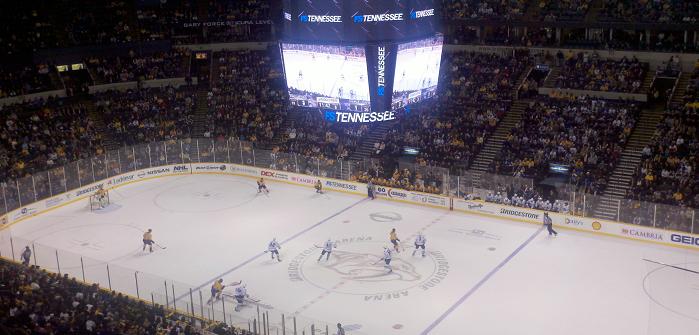 Thanks to their 4-1 victory over the Toronto Maple Leafs tonight, the Nashville Predators remain undefeated in regulation against the Eastern Conference (3-0-2).
In front of 16,135 at Bridgestone Arena, the hometown team gave the fans their money's worth. Four goals, a lopsided fight and even a moment rookie forward  Craig Smith will want to forget for a long time.
Pekka Rinne turned aside 38 of 39 Toronto shots, improving to 10-4-3. The Kempele, Finland native hasn't lost a game in regulation since October 25 against San Jose.
Rinne has allowed just nine pucks to get past him in the month of November.
With just over 5:00 gone, the Predators took the early lead. Martin Erat scored his third goal in four games after banging home a rebound in front of Ben Scrivens.
Despite the 1-0 lead headed into the locker room, the period wasn't owned by Nashville. They only mustered three shots on goal.
"We created virtually nothing offensively, other than the miscue by Scrivens," Head Coach Barry Trotz said.
The Leafs tied it up in the middle frame when John-Michael Liles put the perfect wrist shot past Rinne's blocker from the opposite face-off circle. The perfect shot was just what Toronto needed to wrestle the momentum back from the home team. Just minutes earlier, Scrivens made maybe the save of the month on a Mike Fisher one-timer. The save got the Leafs fans (in section 109) who drove down from Ontario back into it.
They would be silenced just 2:00 later, however, when Ryan Suter noticed Fisher screening Scrivens. The Madison, Wisconsin native dumped an innocent shot on net and it found its way through to take back the one goal lead.
Erat scored his second of the game, and fifth of the season, when he blasted a one-timer past Scrivens. Fisher's backhand pass was flawless as it went tape-to-tape to give the Preds the 3-1 lead.
"The last few games we'll played a lot better," Fisher said of Sergei Kostitsyn and Erat. "Both my wingers are playing real well and that makes it easy for me."
Smith had the chance at an empty netter but tried to get cute. While standing in the crease, he went to roof the puck but, instead of scoring, he put it up and over the glass.
"He won't hear the end of that one, that's for sure," Fisher recalled, laughing.
Trotz, however, was not laughing.
"We talk about being detailed. Right there (if he scores), it's game set match. Instead, he kept them in it. He'll learn from that and he'll be in a few highlight films — or lowlight films — but it's something I'm sure he'll never do again."
Matt Halischuk would end up getting the empty netter a minute later to seal this one for Nashville.
Nashville will finally be able to play against an opponent in their own conference as the lowly Columbus Blue Jackets come to town on Saturday night. Columbus, the worst team in the league having won just three games, will try to build off of their shootout loss to the Boston Bruins tonight.
Puck drops at 7:00pm Central.
LEFTOVER THOUGHTS:
* This is the second straight game Scrivens has given up a goal on the first shot he's faced.
* Kostitsyn assisted on every Preds goal, sans the empty netter. Although, ironically, he would have if Smith didn't get cute on his attempt.
* Suter and Shea Weber were each a plus-4 on the night.
* Not a single Maple Leaf skater finished with a plus-rating. Star forwards Phil Kessel and Joffrey Lupul finished a minus-4 each.
* Former Predator Matthew Lombardi left the game with an injury after logging only 7:50 of ice time.
* Another former Pred, Cody Franson, played 16:22 but failed to register a shot.
* The Predators were just 33% in the face-off dot.
* Brian McGrattan went toe-to-toe with Jay Rosehill and it was zero contest. After "Big Ern's" decisive victory, he put a little cherry on the sundae by extending his arms in celebration of a job well done. (He also got a 10 minute game misconduct for doing it too.)
MY THREE STARS (as voted on with 7:20 left in regulation):
1) Pekka Rinne (NSH)
2) Sergei Kostitsyn (NSH)
3) Martin Erat (NSH)
THE THREE STARS OF THE GAME:
1) Martin Erat (NSH)
2) Sergei Kostitsyn (NSH)
3) Mike Fisher (NSH)
—
PHOTO CREDIT: Jeremy K. Gover // section303.com