Preds don't get a single power play, win anyway…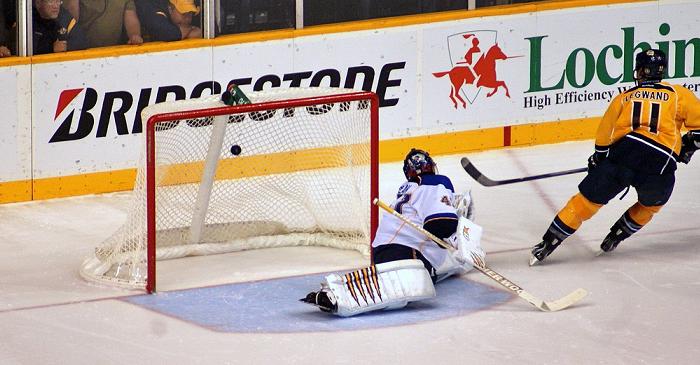 While the result wasn't, one thing was clear coming into Saturday night's game between the Nashville Predators and St. Louis Blues. The winner would have the longest win streak in the Western Conference.
After their 2-1 shootout victory, that distinction is officially held by the Preds.
In front of yet another sold out crowd inside Bridgestone Arena, the host Predators didn't get a chance to improve on their 5th ranked power play but still secured two points in the standings.
"We have to be better 5-on-5," captain Shea Weber said. "It was the opposite last year. We were really good 5-on-5 and our power play was average but, this year, our power play has been winning us games."
Pekka Rinne was stellar between the pipes once again. His 39 saves on 40 St. Louis shots improved him to 15-9-4 on the season and 10-5-0 all-time against the Blues.
"A lot of times, when you face 40 shots, the game gets easier," Rinne said.
When asked if he was frustrated that his team only mustered half that many on Jaroslav Halak, Rinne brushed it off.
"I don't worry about shots (for). I just have to focus on my own game. I don't really care about how many shots we get, I just worry about the final score."
The two teams went scoreless for 52:00 until Weber baited Halak and fed Martin Erat for the tap in. Mike Fisher, exhausted at the end of a busy penalty kill shift, got the puck up to Weber who carried across the blueline. Normally he would wind up and try to blow it by the goaltender. Halak thought the same and came out to challenge, allowing Erat to set up shop at the back door. Weber tossed a perfect pass across to the former Czech Olympian and all he had to do was tap it over the line, which he did, for the 1-0 lead.
"He's walking in and the goaltender's thinking 'I better come out and cut the angle down,'" Head Coach Barry Trotz said. "There's a lot of threat when you think that shot's coming and it opens up some lanes."
Nashville looked to have the game in hand at that point but they took an ill-timed bench minor for too many men on the ice, giving St. Louis their fifth man advantage of the evening. After four failed attempts, St. Louis finally cashed in when TJ Oshie found the back of the net to tie the game with less than 4:00 left in regulation.
An eventful overtime session took place but saw no deciding marker. In the shootout, Oshie, Fisher, David Perron, Craig Smith, and Patrik Berglund all failed in their attempts to put a puck past a goaltender. David Legwand then skated up the ice during the final round and beat Halak to win the game for the home team.
The Predators now boast a Western Conference best five-game win streak and a respectable 8-5-3 home record. Considering they were a conference worst 4-5-3 coming into this home stand, that's saying something.
From the strange stat file: Nashville will go down as 0-for-1 on the power play even though they didn't have a single man advantage opportunity. After the overtime whistle blew, Matt D'Agostini got called for charging. The 0-for-1 stat therefore breaks Nashville's streak of seven straight games with a power play goal.
The Predators will now travel to Washington, DC to take on the Capitals. Washington is third in the Southeast Division and a surprising 11th in the Eastern Conference.
Puck drops at 6:00pm Central. You can see all the action on FS-Tennessee and hear all the action on 102.5 The Game.
LEFTOVER THOUGHTS:
* Through 23:30 of the game, Hornqvist had all the Preds shots on goal. And he had two.
* Hornqvist finished the contest with a team-high five shots.
* For as lopsided as the game was shot-wise, Rinne didn't have to make a save in overtime. Nashville, by contrast, took three shots on Halak.
* St. Louis was just 37% in the face-off dot.
* Barret Jackman, Kevin Shattenkirk and David Perron were the only Blues not to register a shot on goal.
* Nick Spaling didn't figure into the scoring but played an incredible game for Nashville. He was a ridiculous 14-of-19 on face-offs, he logged valuable penalty kill minutes and was easily the Preds' best forward in the first period.
* Former Predators captain Jason Arnott mysteriously did not play in tonight's contest. It would have been his first time in Nashville since being dealt to New Jersey in the summer of 2010.
MY THREE STARS (as voted on with 6:10 remaining in regulation):
1) Pekka Rinne (NSH)
2) Shea Weber (NSH)
3) Nick Spaling (NSH)
THE THREE STARS OF THE GAME:
1) Pekka Rinne (NSH)
2) Martin Erat (NSH)
3) TJ Oshie (STL)
—
PHOTO CREDIT: Sarah Fuqua // Flickr (used with permission)