Preds beat Blue Jackets in instant classic…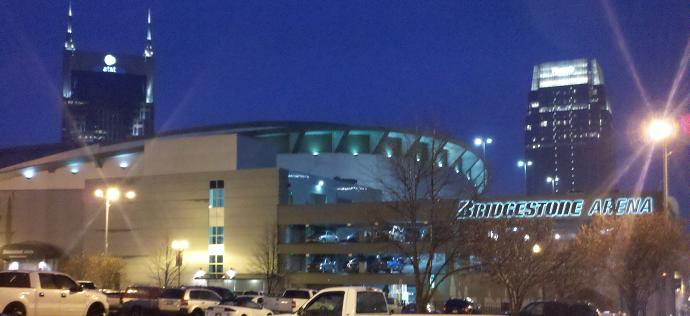 When was the last time the Nashville Predators allowed four goals in the first period and still won?
Exactly.
In front of 17,113 at Bridgestone Arena, the Nashville Predators did just that, overcoming four Columbus Blue Jackets power play goals to beat the visitors in regulation, 6-5.
It's Nashville's sixth win in their last seven and Columbus' fourth loss in a row. Additionally, the Blue Jackets have only won nine games all season long, a league low.
"Really, they out-battled us, out-willed us and converged on their chances," Columbus rookie forward Ryan Johansen said. "You know, somewhere it's got to stop."
Pekka Rinne collected 26 saves in the victory, improving to 16-9-4 and extending his win streak to six games.
Nashville got the home crowd into it early when Mike Fisher bagged the first goal of the night. Sergei Kostitsyn noticed his center all alone on the opposite side of the net. While the Columbus defenders came down on him, he got the puck over to Fisher who put it in uncontested to make it a 1-0 Preds lead.
But then things came unraveled.
In short, Brian McGrattan's undisciplined penalty early in the contest resulted in three Columbus goals.
In long, McGrattan, at center ice, saw Jared Boll by the Nashville bench. As soon as the Preds tough guy locked on, Boll got rid of the puck. McGrattan took several strides and crunched him along the boards. Boll went down in a heap and McGrattan went down for the night, being issued a five-minute major for interference and a game-misconduct.
A major penalty means the player does not come out of the box when the attacking team scores. Columbus took full advantage. Jeff Carter, who had already scored one earlier in the night, scored two power play goals in 1:49. Johansen also had one, giving Columbus a three goal lead and three goals on the same power play.
Patric Hornqvist gave the Preds some life early in the second period when he scored just his second goal in 20 games but the Blue Jackets did exactly what they did in the opening frame: answer immediately. Johansen tallied his second of the night and seventh of the season a minute and half later when he beat Rinne on, you guessed it, another power play.
Just 1:01 later, however, it was Nashville who responded. Spaling was able to wiggle free from three checkers and Colin Wilson got him the puck at the top of the crease. All the former Kitchener Ranger had to do was tip it in to make it 5-3, Columbus.
Toward the end of the middle frame, rookie blueliner Roman Josi put a slapshot by Curtis Sanford to cut Columbus' lead to a mere goal headed into the locker room.
After a relatively uneventful start to the third period (considering the offense that had occurred in the first two frames, anyway), Nashville found a way to tie it when David Legwand snuck in from the face-off circle and put yet another Wilson pass — this one from behind the net — past Sanford to ignite the building with just 3:46 left on the clock.
Just when you thought these two teams were going to need overtime to decide this one, Martin Erat received a beautiful up-the-gut pass from Ryan Suter that put him in behind the Columbus defense. He broke in and slid the puck between Sanford's legs to win the game for Nashville in dramatic fashion.
How dramatic? When the puck crossed the goal line, there was only 8.4 seconds remaining.
"We know better," Sanford said. "We know that, in a tight game, you take away the middle of the ice. We know better than that."
Third period collapses are nothing new for the Blue Jackets. They've now blown four third period leads in 12 days.
"We practice all week on working on our third periods," Johansen said. "On things we should be doing smarter or better and to get a loss again, in the third period, is mentally tough. We've just got to find a way to block it out and move on."
The Predators will savor this one for about six minutes as they'll board a plane tonight and head to Dallas so they can take on the Stars on Friday night.
Puck drops at 7:30pm Central. All the action will be on FS-Tennessee and 102.5 The Game.
LEFTOVER THOUGHTS:
* The last time Rinne allowed five goals and was credited with a win was October 22, 2009. The last time he allowed five goals and was credited with a win in regulation? Never.
* Nashville has never lost a game in regulation that Spaling has scored a goal in (10-0-1).
* Columbus set several franchise records tonight. Three goals by one Jackets player in 3:18, four goals by the Jackets in 3:18 and four power play goals on the road.
* Francis Bouillon, McGrattan and Jon Blum were the only Preds without a shot on goal.
* Jordin Tootoo led all Nashville skaters with five shots.
* A lot of fans (and media) thought the Preds would start the second period with Anders Lindback in net. Especially considering Rinne is expected to start tomorrow night's contest in Dallas. Head Coach Barry Trotz elected to leave Rinne in, however, and it paid off.
* Blue Jackets Head Coach Scott Arniel has been embroiled in "unemployment rumors" for a while now. The Columbus brass didn't fire him when they started the season 0-7-1. They didn't fire him when the Philadelphia Flyers hung nine on them in early November. Is this finally when they pull the trigger?
THE THREE STARS OF THE GAME:
1) Martin Erat (NSH)
2) Jeff Carter (CMB)
3) David Legwand (NSH)
—
ALL QUOTES courtesy of the Columbus Blue Jackets Media Relations department.
—
PHOTO CREDIT: Jeremy K. Gover // section303.com