Preds fans "flash mob" a youth hockey game to give kids an unforgettable experience…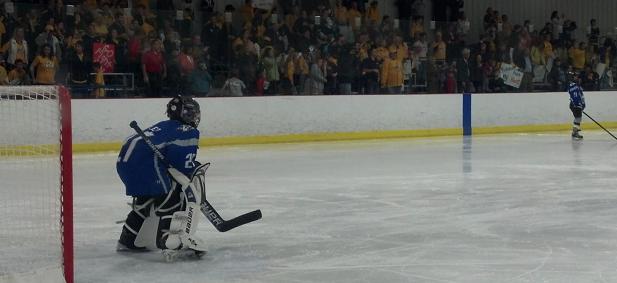 All we can say is "We told you to come."
On Tuesday night, Nashville Predators fans came together and gave some youth hockey players an experience they'll never forget.
Oh sure, there were free pizza and beverages, courtesy of Hunt Brothers, but that was just the cover story. The Preds needed a reasonable excuse to get fans collected at A-Game Sportsplex in Franklin so they could pull off a flash mob-type event for some unsuspecting kids.
"We all kind of thought something was going on when they were recording us in the locker room," Blizzard forward Quentin Rummo, 11, said.
The NHL club wanted to bring the youth players as close-as-possible to the NHL experience. As a result, Paul McCann, the PA Announcer for Nashville games inside Bridgestone Arena, took to the mic to address the crowd from the scorers table, "Krazy Kyle" brought his keyboard to supply the in-game tunes and Gnash and the Ice Girls entertained the crowd with their antics. The icing on the cake? Roughly 300 screaming Preds fans that responded to the call of the so-called Pizza Party.
On two goals by Sean Karaman, the Blizzard beat the Cyclones 2-0 but the story wasn't the score. It was the atmosphere.
"It was an incredible experience for the boys," Blizzard Head Coach Matt Dunn said. "They couldn't keep the smiles off their faces. Having all that enthusiasm with the crowd and the noise, it really made it special for these kids."
If you couldn't be there, you will be able to see all the excitement soon. PredsTV will post a video once it's produced.
But, like we said… we told you to come.