PRESS RELEASE: Stu Grimson elected President of the Board of Jr. Predators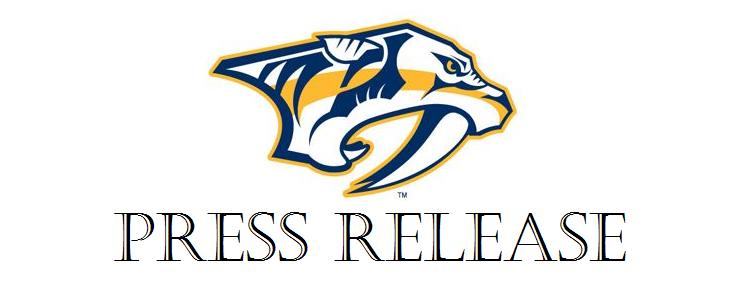 Nashville, Tenn. (October 29, 2012) – Former Nashville Predators player and current Preds Radio analyst Stu Grimson has been named President of the Board by the Nashville Jr. Predators.
"We are so thrilled to have Stu join our organization as President." Nashville Jr. Predators Vice President Chris Thiesing said. "Stu brings a wealth of knowledge, hockey experience and leadership to the table. He is a 'get things done' type of person and that is exactly what the Jr. Predators need! His charm, wit and personality are second-to-none and I anticipate the program to grow exponentially through his involvement."
In this new role, Grimson will chair board meetings, monitor and support the Hockey Director, monitor and oversee financial obligations and work with parents and board members on the vision for Jr. Predators growth. Grimson fills the role left vacant by John Latreille, who stepped down in August of 2011 due to health problems.
"Since Stu became a full-time Nashville Predators employee this past summer, it has become overwhelmingly evident that his unique skill set and experience has made him a very dynamic, exciting and valuable resource," Predators President/Chief Operating Officer Sean Henry said. "As President of the board, Stu will utilize his skills, passion and desire to grow the game and the Jr. Predators in Middle Tennessee and beyond."
"I am honored and humbled to be elected President of the board of the Nashville Jr. Predators," Grimson said. "It is a phenomenal organization and I look forward to furthering my involvement and giving back to the youth hockey community of Middle Tennessee."
Stu Grimson enters his fifth season as a color analyst on the Predators Radio Network. 2012-13 will be his first full-time season with the Predators broadcast team. Grimson, who played in 30 games with the Predators during the 2001-02 season, posted 17 goals, 22 assists and 2113 penalty minutes in 729 career games with Calgary, Chicago, Anaheim, Detroit, Hartford, Carolina, Los Angeles and Nashville from 1987-2003. After retiring from the NHL following the 2002-03 season, Grimson returned to school, finished his undergraduate degree and earned a law degree from the University of Memphis in December of 2005. The Kamloops, British Columbia native then went to work as a labor lawyer for the NHLPA for two years before returning to Nashville to work as a defense attorney with Kay, Griffin, Enkema & Colbert, PLLC. Stu resides in Brentwood with his wife, Pam, their three daughters, Erin, Hannah and Jayne and son, Kristjan.
About the Nashville Junior Predators Program
The Nashville Jr. Preds is an AA travel program comprised of Nashville area youth – fielding 15 teams of more than 250 players from ages 8-and-under (8U) to 18-and-under (18U). It is the official youth hockey association associated with the Nashville Predators. Teams practice at both A-Game in Cool Springs and Centennial Sportsplex in Nashville.  The program is currently in its third year of existence. The League boasts a 2012 Silver-Stick winning Mite Major team and the 2012 USA Hockey Tier II 1A 12-and-under-champion Nashville Junior Predator '99s. For more information on the Nashville Jr. Predators program visitnashvillejrpredators.com.