Preds fans turn out in droves, donate $3,300 to Sandy victims…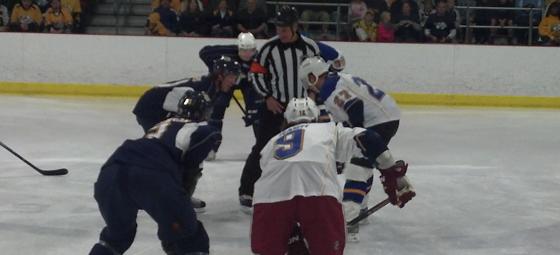 It wasn't NHL hockey but the fans came out in droves anyway.
Just shy of 800 people packed into Rink 1 at A-Game Sportsplex to take in a game between the Nashville Predators alumni and the St. Louis Blues alumni. The home team brought home the victory, 9-8.
The event was put on not only to give fans in Middle Tennessee some hockey but also to benefit victims of Superstorm Sandy. The hurricane, nor'easter hybrid pulverized the New York/New Jersey area early last week. Tonight's game was free for attendees but brought in a whopping $3,300 for the cause.
"It was a $5 suggested donation at the door but a lot of fans gave more," Predators Corporate Coordination Coordinator Jessica Jones said. "Some donated above and beyond. Even some of the players."
Brian Poile and JP Dumont led the way for Nashville with two goals and an assist each but former Blue and Phoenix Coyote forward Tyson Nash tallied three goals and an assist en route to MVP honors. His trophy? A Stu Grimson signed photo and a pie in the face.
It was amazing to see people lined up out the door and around the building 15 minutes before the game. It was incredible to hear Nashville fans chant "We want frosties!" after the fourth Preds goal. And it's humbling to be part of a community that gives so selflessly to others because they remember what it was like to be under water and without a home.
For all those who question whether or not Nashville is a hockey town, look no further than tonight. You should be proud Preds fans. You came out in force tonight, donated with your hearts and cheered with your lungs. All for a meaningless alumni game in the middle of November.
Kudos to you, Smashville. Kudos to you.