Hockey's Future releases top Preds prospects list with curious inclusions…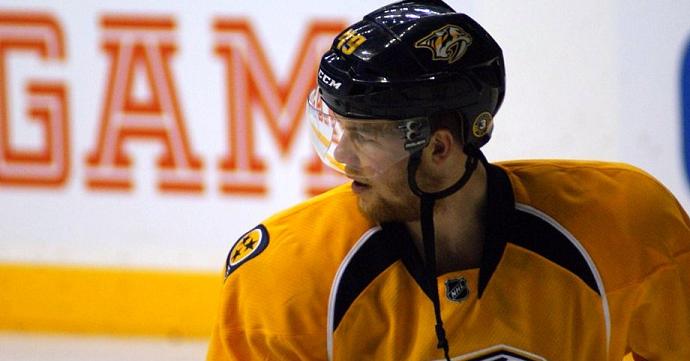 Scouting website Hockey's Future released their Top 20 Nashville Predators prospects list on Monday. Obvious names top the list but there is a smattering of head-scratchers on the list.
Brian Fogerty, who covers the Florida Panthers for Hockey's Future — not the Predators — wrote the list. Hence the curious inclusions to the countdown.
Blue chippers Ryan Ellis and Roman Josi sit atop the Top 20, rightfully so. Ellis, with his cannon shot, is projected as a power play specialist while Josi, with the great breakout pass, is thought to be the heir to Ryan Suter.
Then things get dicey.
Jon Blum is ranked #3. Not among defensemen. Among all players. The Rancho Santa Margartia, California native was called up in an emergency situation two seasons ago and ended up as a mainstay on the blueline. He would finish the 2010-11 season having played in 23 games and having collected eight points. He even helped Nashville advance to the Western Conference Semifinal for the first time in franchise history that year. Everything was on the up-and-up and the Preds had him written into the second pairing to start the 2011-12 campaign.
"We started last year's training camp with Jonathan Blum and Kevin Klein as our second pairing on D," General Manager David Poile said. "He's young enough and has enough skill that, hopefully, last year was a little bit of an aberration."
Doing his part to show his team that he's serious, Blum willingly signed a one-year, two-way deal this summer. Another sign of maturity is the fact that he made a commitment to rebound and claim an NHL roster spot by staying in Music City all summer in order to work on his conditioning and strength. And yet another sign is that while he could have gone overseas during the lockout but he chose to sign an AHL deal instead, keeping him alongside some of his Nashville teammates with the Milwaukee Admirals.
So while there are many things to be excited about when it comes to the former first round pick, surely he shouldn't be listed as the third best player in the Nashville system.
In Fogerty's rankings, another defenseman's spot raises eyebrows. Mattias Ekholm, last season's Elitserien's Defenseman of the Year in just his second full year in the Swedish Elite League, is all the way down at #12. Fellow scouting site Hockey Prospectus has the 6'3″ Swede as the best defensive prospect in the Nashville system and the second best prospect overall.
That's quite a discrepancy.
Fogerty also has a goaltending controversy. He's got 6'6″ Magnus Hellberg ranked below 6'0″ Jeremy Smith, despite the Predators being a team who loves large goalies. At 6'5″, Pekka Rinne became the first of the "giants" in Music City then since-traded Anders Lindback was next. Last summer, to continue that tradition, Poile and the Preds selected Hellberg in the second round of the draft.
"Being 6'6″ is kind of special," Nashville goaltending coach Mitch Korn told us. "But you've still got to be skilled and stop the puck. It's not only about size. It's about skill number one — and that's the physical skill and mental skill of the goalie — and size number two. Our objective is to find those skills with size."
Sticking with netminders for a second, the list also features a name that flat out shouldn't be on there. Nashville's seventh round pick in 2007 was a Finnish goalie named Atte Engren. He finally made the trek over the Atlantic so he could back-up Smith in Milwaukee last year. He put up modest numbers but nothing spectacular and, as a result, signed a two-year deal with TPS in Finland this summer, thereby signifying the end of his NHL dreams. At least with Nashville.
And finally, two offensive players who should easily be considered top prospects aren't even included. Two-time 40-goal scorer in junior Josh Shalla and flashy Swede Patrick Cehlin were ranked eighth and ninth, respectively, by Hockey Prospectus but left off the list entirely by Hockey's Future.
Shalla, in particular, is especially surprising as he's a goal scorer. Everywhere he's been in his hockey career, he's a shoot-first guy. And what's the one type of player the Predators don't possess? A sniper.
Nashville loves two-way players who can chip in occasionally. In addition, their idea of an offensive threat is someone who's classified as a "playmaker" (see: JP Dumont, Paul Kariya, Martin Erat, Steve Sullivan, etc.). Now that Alexander Radulov has permanently bolted for the KHL, Patric Hornqvist is the closest thing the Predators have to a goal scorer but, considering he does most of his damage parked in front of the net, the title of "sniper" wouldn't really fit him.
Is Shalla close to making the NHL? Of course not. At least a year away, if not two. But these are prospect rankings by team, which means the needs of the organization have to be taken into account. To leave off a goal scorer like Shalla is absurd.
Same with Cehlin. Most experts agree that he's an offensive-minded player which, again, on this team is a good thing. If he can shore up his defensive game — as in, not be a liability — he could eventually turn into a top six forward for Nashville. In his first game in North America last week, the Stockholm, Sweden native bagged two goals in the third period to give the Admirals a 3-2 win over Grand Rapids. Fans in Milwaukee can't wait to see what he's got up his sleeve for the home opener on Friday.
All this to say that the future for bright for the Nashville Predators. A lot brighter than some believe.
—
PHOTO CREDIT: Sarah Fuqua // Flickr (used with permission)