Preds finally hit a wall, get routed by LA…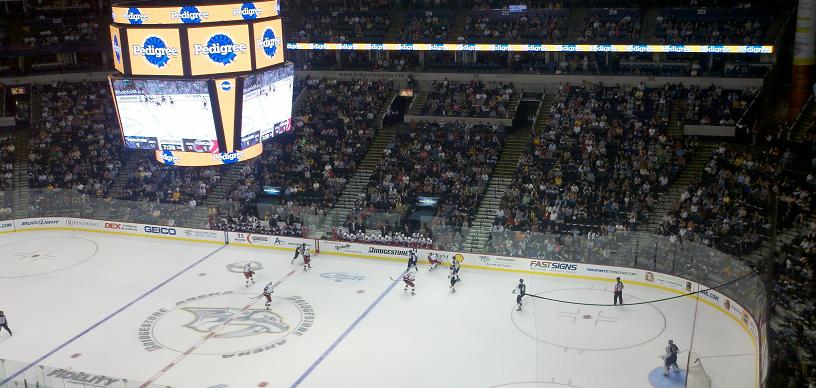 Last Saturday, Ryan Porth of RLDHockey said to me "imagine if this is your first hockey game ever right now."
Tonight, he said the same thing. But for a different reason.
The Nashville Predators saw their five-game win streak come to an end in disappointing fashion as the Los Angeles Kings routed them 6-1 in front of 16,734 at Bridgestone Arena. It was Nashville's fifth game in eight nights and, in the end, may have proved to be the proverbial fatigue wall.
Anders Lindback, who played last night in New Jersey, was pulled for the first time after allowing three goals on just nine shots in the first period, giving way to Mark Dekanich. "Dex" finished with 22 saves on 25 Kings shots.
The loss was just Lindback's second regulation loss of his young NHL career.
Steve Sullivan got the Predators' only goal.
Justin Williams wasted no time getting the Kings on the board. Just 15 seconds in, Williams put one behind Lindback to give the Kings a 1-0 lead.
Trevor Lewis and Drew Doughty scored 50 seconds apart to chase Anders "The Giant" after 9:59 of action.
Lindback being relieved meant that Dekanich made his NHL debut. The Predators answered immediately as Sullivan raised a backhander past Jonathan Bernier to cut the LA lead to two.
Kings veteran Ryan Smyth tallied on the power play after Steve Begin was called for a garbage boarding penalty. Alexei Ponikarovsky, knowing Begin was about to check him behind the Preds net, turned to face the boards, exposing his back. When Begin made the hit, it was then considered a hit from behind and the officials made the boarding call. As a result, the Kings went up 4-1 when Smyth posted his 10th of the season.
The bleeding didn't stop after the first period, however. Ponikarovsky capitalized on a brutal (and embarrassing) Shane O'Brien giveaway from behind his own net to make it 5-1, Los Angeles early in the middle frame.
Smyth got his second of the game before the damage was all said and done.
Bottom line, not a good night for the Predators. You never want to be out of the game from the get-go but, all things considered, they were in the middle of a five-game win streak, not to mention a streak that saw them secure at least a point in 10 straight. So while you'd probably want the loss to come against an Eastern Conference opponent like New Jersey last night but, all things considered, you'd gladly lose one game to grab a point in 10 straight.
Additionally, the Predators hadn't lost a game in regulation during the month of December until tonight. And it's the 18th. Not a bad run.
Nevertheless, Nashville has three days off to sit and stew over this one before playing Chicago on Wednesday night and then Ottawa at home on Thursday. Head Coach Barry Trotz mentioned earlier today that Pekka Rinne should be ready to go by sometime this week.
Expect Lindback to start on Wednesday, however, as the coaching staff would like to see if he can rebound off of his first poor performance.
Puck drops, in Chicago, at 7:30pm Central.
LEFTOVER THOUGHTS:
* This was Begin's home debut as a member of the Predators. He finished the game with a minus-2 rating, a penalty and two shots on goal.
* Preds defenseman Cody Franson missed his second straight game attending a funeral for a family member back home in British Columbia.
* Franson, Matthew Lombardi (concussion), David Legwand (lower-body), Patric Hornqvist (upper-body) and Pekka Rinne (knee) were all out of the Predators lineup tonight. That's $14.3 million – or just under 30% of the payroll – on the shelf.
* The intro video featuring the ES Posthumus remix of Jay-Z's Run This Town made it's triumphant return to Bridgestone Arena before tonight's game. Game Operations might think about going back to the Jason Aldean video however as the Preds were undefeated when using it.
* With Ryan Suter's assist on Sullivan's goal, both players extended their point scoring streaks to five games and four games, respectively.
* As one would expect, no Preds players finished with a plus-rating. Only Weber, Suter, Cal O'Reilly, Sullivan and Colin Wilson finished even.
* Sergei Kostitsyn's point scoring streak came to an end tonight. He is now tied with Suter for the franchise-record of eight games.
MY THREE STARS (as voted on with 7:29 left in regulation):
1) Ryan Smyth (LA)
2) Drew Doughty (LA)
3) Trevor Lewis (LA)
THREE STARS OF THE GAME:
1) Ryan Smyth (LA)
2) Drew Doughty (LA)
3) Trevor Lewis (LA)