Preds tie franchise record with 10th straight point…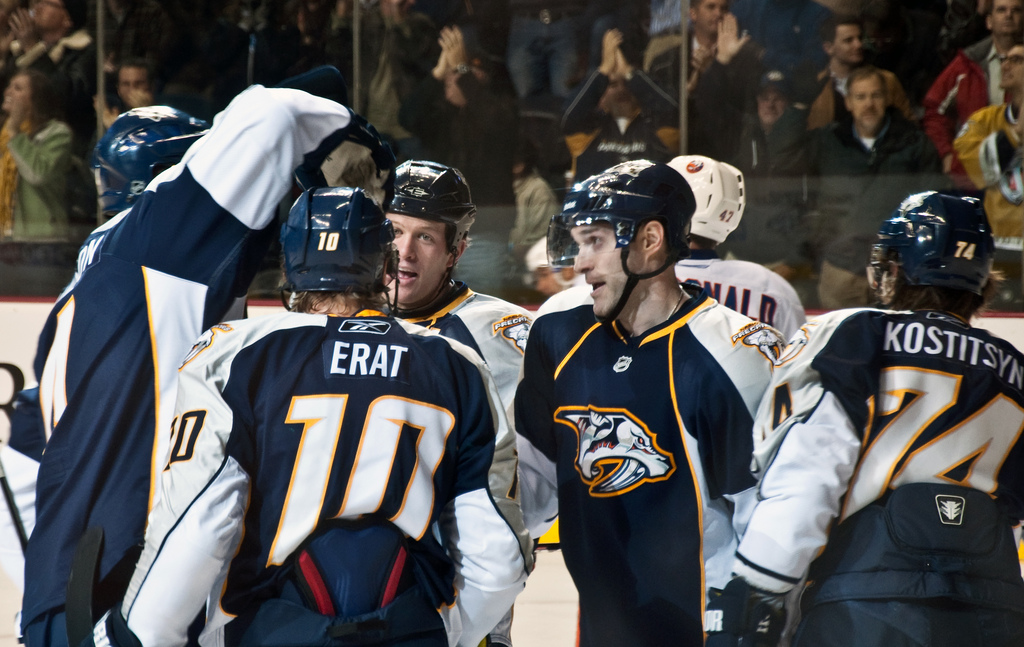 The Predators only had to put up 20 shots to knock off the New Jersey Devils and pick up their fifth straight win on Friday night.
More impressively, it was the team's tenth straight game earning at least a point, tying a franchise record.
After a slow and mostly uneventful first period, Steve Sullivan redirected a Shea Weber shot past Devils goalie Martin Brodeur with just 0:17 left in the first period. That was all the momentum the Predators needed.
At 4:56 of the second, Martin Erat beat Brodeur high on the glove side for a rare Predators power play goal. Erat's goal from Shea Weber and Ryan Suter would turn out to be the game winner.
In the third period, at almost the exact same point, Erat beat Brodeur again on yet another power play goal, putting the Predators up 3-0. Assisting on the goal were Suter and Sergei Kostitsyn. By picking up the assist, Kostitsyn tied a franchise record by scoring a point in 8 straight games.
The Devils tried to spark a rally at 7:06 in the third when Mattias Tedenby registered the Devils' first goal on the power play from Ilya Kovalchuk and the recently-waived Brian Rolston. Unfortunately for them, it would be their only goal.
Quick Notes:
– Anders Lindback, with a little assistance from the goal post, improved his season record to 9-1-2
– New Jersey finished with just 16 shots on goal in the loss
—
PHOTO CREDIT: Paul Nicholson