Preds finally score but still lose fourth straight…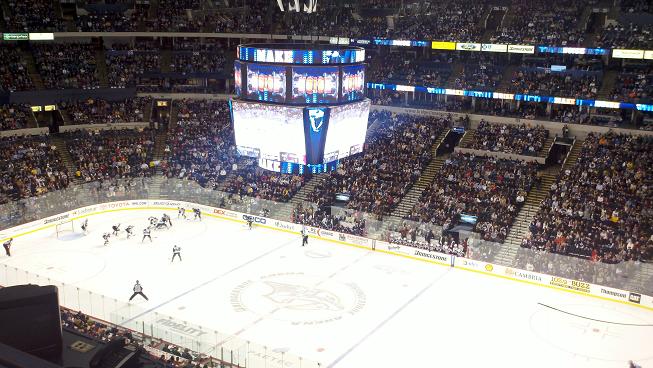 The good news? 145:50 after scoring their last goal, the Nashville Predators finally got another one.
The bad news? They still lost.
Nashville got goals from Ryan Suter and Colin Wilson but gave the Dallas Stars a late power play opportunity that resulted in the game-winning goal to beat the Preds 3-2 in front of 15,860 at American Airlines Center. The Preds have now lost four straight.
Pekka Rinne had 22 saves in the effort.
For the second straight game, the Predators had plenty of chances and worked extremely hard but couldn't get the bounces. If that was ever in doubt, look not further than the second Dallas goal where Alex Goligoski went to dump the puck in and, instead of it going into the corner, the puck deflected off of Jon Blum's leg and then skipped off the ice and up and over Rinne's pad into the net.
The frustrating loss – on the heels of a disappointing slide – has the fan base boiling over. After the game the @PredFans Twitter group saw countless tweets ranging from how General Manager David Poile should turn the team into "sellers" at Monday's trade deadline to how this team will fail to make the playoffs if they continue "to play like this."
Fact is, the Predators are not "sellers" and they absolutely can make the playoffs. Nashville is a single point out of the playoff bubble. With wins over Columbus tomorrow afternoon and then at Edmonton on Tuesday, this team is back in fifth place and nobody's talking about being "sellers" or firing Head Coach Barry Trotz.
(Yes, that's started up again.)
While losing four in a row is super frustrating, not to mention being shutout in two of those four games, but the Western Conference is tremendously tight. As of this moment, the fourth place Phoenix Coyotes have 75 points. The St. Louis Blues have just 10 less points and they're in 13th. So nobody should be hitting the panic button this early. There's still 42 days left in the Predators season. Plenty – and I do mean plenty – of things can happen in 42 days.
Also, Predators fans are failing to remember that the last time their team lost to the Stars (December 28), they went on a 10-2-0 run immediately afterward. If Nashville can replicate that run, guess who'll be striving for the Central Division title? Making the post season at all isn't even a conversation.
So everyone who's hit the panic button needs to calm down and let this thing play out. After all, there is a lot going on in PredNation right now. Marek Svatos got claimed off waivers by the Ottawa Senators, Jon Blum, Matt Halischuk and Blake Geoffrion have all been recalled from the AHL affiliate Milwaukee Admirals, Steve Sullivan was surprisingly put on the injured reserve, Alexander Sulzer was traded to the Florida Panthers, and heck, even Wade Belak isn't here anymore as he cleared waivers this morning and was sent to Milwaukee. So there have been quite a bit of changes on the Predators roster in the past few days. Not to mention Poile still has all of Sunday and half of Monday to alter the team further via trade(s).
Tomorrow's special 2:00pm Central start should be interesting. Nashville should come out fired up and, quite frankly, pissed off about how things went against the same Columbus Blue Jackets squad just a few days ago. They should bring the fire and intensity regularly throughout the contest.
If they don't, then the @PredFans group might be right.
LEFTOVER THOUGHTS:
* Blake Geoffrion, just by playing, became the first fourth-generation player ever in any major sport.
* Geoffrion's stat line reads: 5:13 of ice time, no shots, one takeaway and 0-for-3 in the face-off dot.
* Despite the loss, Patric Hornqvist, David Legwand and Wilson all finished a plus-2.
* Mike Fisher finished a minus-2 and lost three key draws in the Dallas zone during the final minute of play.
* Cody Franson led all skaters with four shots on goal.
* Two Western Conference bloggers will be in attendance tomorrow afternoon. Both Columbus blogger Light the Lamp and Los Angeles Kings blogger The View From My Seats will take in the Sunday matinee tilt. Let's show them how things are done in Nashville.
—
PHOTO CREDIT: Jeremy K. Gover // section303.com