Blake Geoffrion Comes Home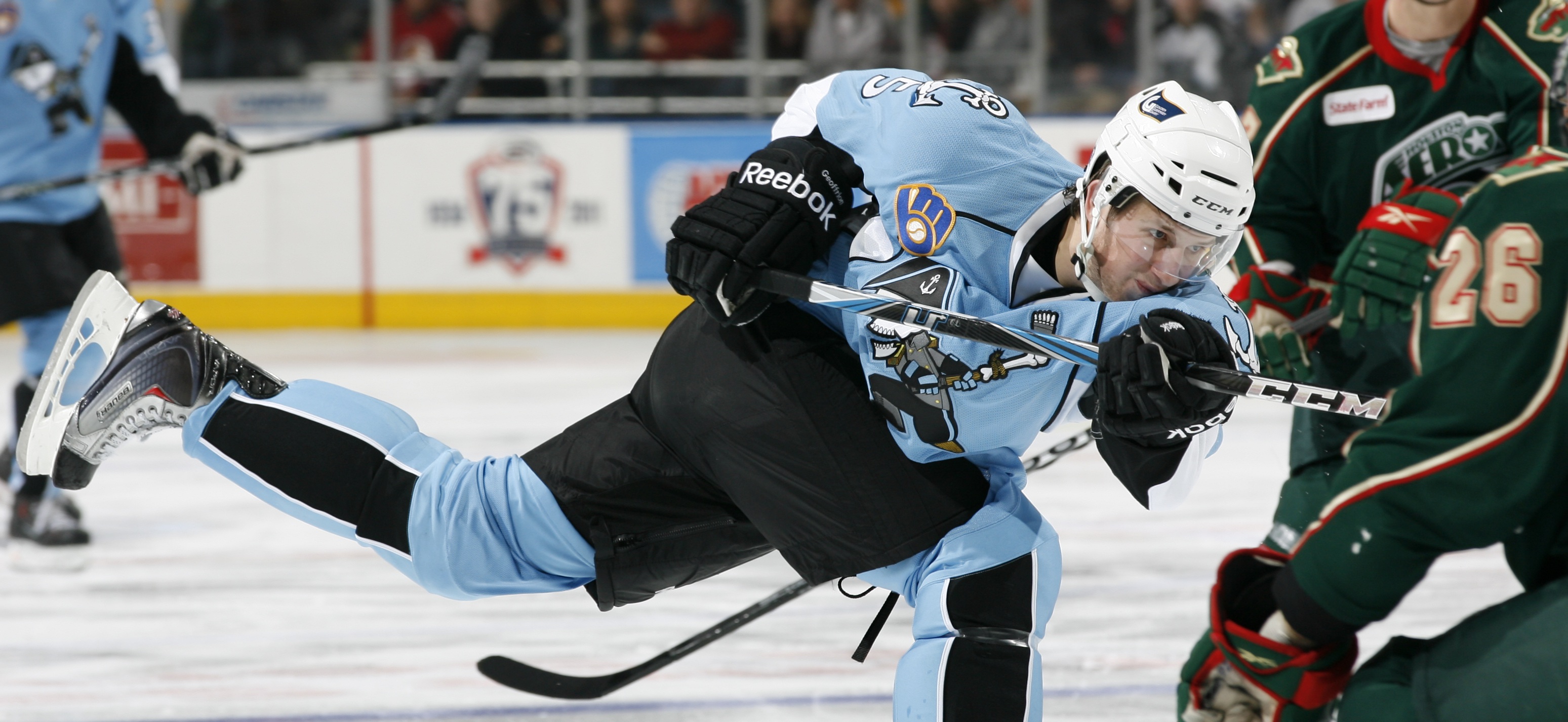 The Nashville Predators have recalled Blake Geoffrion and Matt Halischuk from the Milwaukee Admirals.
For Halischuk, it's his third stint with the Predators this season.
For Geoffrion, well, this will be his first stint ever wearing the colors of his hometown team.
Brentwood's Geoffrion is the reigning Hobey Baker Award winner from the University of Wisconsin.
Scoring 37 points (11G – 26A) in 45 games this season, Geoffrion was named the AHL's Player of the Week on back-to-back weeks earlier this month, becoming the first player in over a decade to do so.
Most importantly, the grandson of Boom Boom Geoffrion and the great-grandson of Howie Morenz will become the first Nashville native to suit up in the National Hockey League…and he will do it for the team he grew up watching.
Drafted by the Predators in the second round, 56th overall, of the 2006 NHL Draft, Geoffrion played 4 years at the University of Wisconsin, suiting up in 147 games as a Badger, scoring 55 goals and 59 assists for a career total of 144 points.
—
UPDATE: The Predators have officially issued a press release – here it is:
Nashville, Tenn. (February 25, 2011) – Nashville Predators President of Hockey Operations/General Manager David Poile announced today that the club has recalled forwards Blake Geoffrion (BLAYK JEHF-ree-ohn) and Matt Halischuk (mat HUH-lihs-chuhk) from Milwaukee (AHL).
Geoffrion, 23 (2/3/88), is the first Tennessee native to be selected in the NHL Entry Draft (56th overall, second round, in 2006) and this is his first career recall. He ranks second on the Admirals in points (11g-26a-37pts, 45gp) and earlier this month became the first AHLer in 16 years to be named League Player of the Week in back-to-back weeks.
The Brentwood native will become the first-ever fourth generation NHLer, following in the footsteps of Hockey Hall-of-Fame grandfather, Bernie "Boom Boom" Geoffrion and great grandfather, Howie Morenz (a part of the Hall of Fame's first induction class) and father, Danny, who was drafted eighth overall by the Canadiens in the 1978 Draft, and played for both Montreal and Winnipeg during his NHL career, as well as Quebec in the World Hockey Association. The University of Wisconsin product is in his first professional season after winning the 2010 Hobey Baker Award as college hockey's most outstanding player last spring.
Halischuk, 22 (6/1/88), has played 11 games for Nashville this season – all since making his club debut on Jan. 16 at Chicago – posting three points (1g-2a) and a +1 rating while averaging 9:46 per game. The Toronto, Ont., native, acquired from New Jersey in the offseason, also has 23 points (11g-12a) in 37 games for the Admirals, including four (2g-2a) in his last three outings.
—
PHOTO CREDIT: Scott Paulus, Milwaukee Admirals