Preds finally win a should-win, beat Avs 4-2…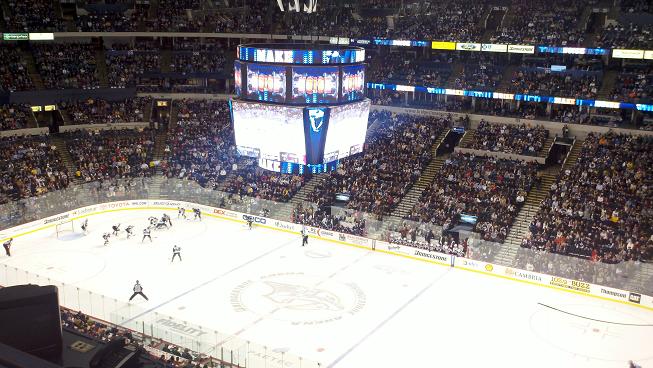 Last time the struggling Colorado Avalanche visited Music City, their roster touted names like Craig Anderson, Kevin Shattenkirk, Chris Stewart and even the great Peter Forsberg. Well, all four of those guys are no longer with the team and even their leading scorer Paul Stastny was held out of the lineup with an injury.
Add to all that the Avs were on the second of back-to-back nights and basically, there was no excuses for the Preds. They absolutely needed to beat a 14th place Colorado team who was 1-7-1 in their last eight coming in and had nothing to play for.
Despite the tradition of losing to teams they should beat (*cough* *cough* *the Oilers* *cough*), in front of 17,113 at Bridgestone Arena, the Nashville Predators did not disappoint as they beat the Avs, 4-2.
Nashville got goals from Shea Weber, Matt Halischuk, Joel Ward and Martin Erat in the victory.
Improving his goals against average at every possible turn is Pekka Rinne as he finished with 36 saves on 38 Colorado shots.
Colorado remains second to last in the Western Conference, falling to 26-34-8 while Nashville, at least for now, takes sole possession of 9th place, improving to 35-24-10. Rinne has collected 25 of those wins.
The Predators wasted no time jumping on a tired Colorado squad. After the Avs took a Too Many Men penalty, Weber put the home team up early by banging home a loose Joel Ward rebound to make it 1-0.
With just under 12:00 gone in the first, Halishuck made it 2-0 after incredible work in front of the net by Blake Geoffrion. The Brentwood native took it through the crease, spun around to shake a defender, passed back to Kevin Klein at the point and Halischuk banged home the rebound.
In the middle frame, Colorado answered. On a mad scramble that Rinne seemed to make 12 saves on, Ryan O'Reilly finally got one over the line to cut the Preds lead to one.
In what has to be the goal of the night in the NHL, Ward made it 3-0, Nashville. After his stick was chopped out of his hands behind the Colorado net (with no penalty called, by the way), he was forced to go get another from the bench. In doing so, the Avalanche defense lost track of him and swooped in and stole a cross-ice pass in the Colorado zone, froze Budaj with a fake slap shot, then pretended to do a wrap around but, instead, tucked inside the near post. An absolutely incredible goal that you'll see in highlight videos everywhere for days to come.
Fun fact: Ward's goal celebration took place on top of his original stick which was still laying on the ice.
Colin Wilson was the unfortunate victim of a bad bounce as he took an innocent Daniel Winnik shot off his shin that carromed in past Rinne. After a tremendous 5-on-3 penalty kill and Ward's goal, the Predators were looking to go into the locker room up 3-1. Instead, after allowing that goal with just 0:30 left, they went into the locker room only up a single goal.
Erat added his ninth point in his last five games with the empty netter with less than a second remaining.
After blanking the Minnesota Wild 4-0 on Thursday, and then beating Colorado tonight, the Predators will now turn their attention to the Los Angeles Kings. The Kings are in direct competition with the Preds for a playoff spot in the Western Conference and, while this game against Colorado was a must-win because they should win, Tuesday's game is a must-win because they need keep the Kings at bay.
Puck drops at 7:05pm.
LEFTOVER THOUGHTS:
* It was the 12th sellout of the season at Bridgestone Arena.
* Erat now has a six-game scoring streak.
* Erat led all Predators skaters with six shots on goal.
* David Legwand had his four-game scoring streak snapped.
* Ryan Suter is now a ridiculous plus-25 on the season. The closest Predators player to him is Erat with a plus-14.
* The Preds are now 1-2-1 on the season when Jordin Tootoo is assessed a fighting major. (thanks to Patten Fuqua for help getting the real stat.)
* Halischuk scored his second goal of the season, giving him a new career high.
MY THREE STARS OF THE GAME (as voted on with 7:57 left in regulation):
1) Joel Ward (NSH)
2) Pekka Rinne (NSH)
3) Ryan O'Reilly (COL)
THE THREE STARS OF THE GAME:
1) Joel Ward (NSH)
2) Ryan O'Reilly (COL)
3) Shea Weber (NSH)
—
PHOTO CREDIT: Jeremy K. Gover // section303.com