Preds finally tally three; Rinne blanks Minnesota…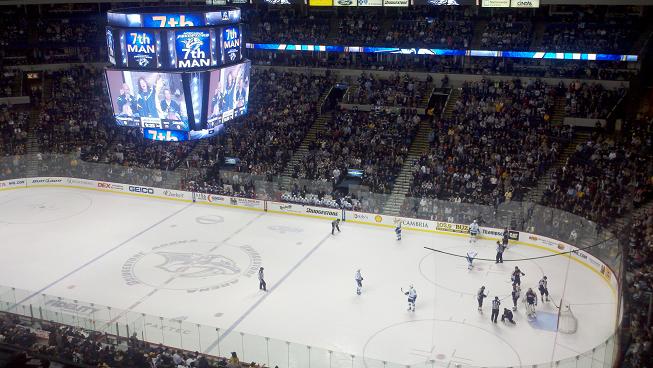 Niklas Backstrom and the Minnesota Wild vs. Pekka Rinne and the Nashville Predators. Winner gets 9th place in the Western Conference. The loser gets 11th.
So, in "The Battle for 9th," it was the home team who came away victorious.
In front of 15,343 at Bridgestone Arena, the Preds beat Minnesota 4-0 on Thursday night. Nashville got goals from Joel Ward, Martin Erat and two from Nick Spaling as well as 19 saves from Rinne in the win.
It was Rinne's sixth shutout of the season, tying him four fourth in the NHL.
Nashville is now 31-4-1 when scoring three goals or more. So, basically, this one was over after the first period.
As much as the Predators have been getting the bad bounces lately, they certainly got the bounces in this one. Former Pred Greg Zanon was whistled for interfering with Patric Hornqvist but, in reality, it was a pretty weak call. Then, just after Zanon's penalty expired, Erat put himself off-sides while carrying the puck into the Minnesota zone but it wasn't called. Seconds after the whistle should've blown, Ward bagged his ninth of the season.
Less than 0:50 later, Spaling took a gorgeous blind, backhand cross-crease pass from Jerred Smithson to make it 2-0, Preds early.
Nashville caught another break when Antti Miettinen found a rebound on his stick with the entire net to shoot at. Instead of just tapping it home to cut the Nashville lead in half, Miettinen tried to lift it and, in doing so, he put it up and over the net.
But they weren't done. Erat, crashing the net with David Legwand and Ward, found a juicy rebound at his feet and turned it into his 135th career goal, making it 3-0, Predators. It was the first time since December 4 that Nashville had scored three times in the first period.
The Predators got two more breaks early in the middle frame as Kyle Brodziak smoked a wrist shot that clearly beat Rinne on the short side but it rang off the pipe. Then, moments later, Pierre-Marc Bouchard took a shot that slid under Rinne's pads but it went wide.
Nashville finished things off in the final frame when the Wild couldn't clear. Spaling drove to the net but couldn't get a shot off. Shea Weber corralled the rebound, took it behind the net to draw the goaltender out of his crease, and centered it to a waiting Spaling who tallied his second goal of the game. The former Kitchener Ranger now has seven career goals and four of them have come against the Wild.
Next up for the Predators is the lowly Colorado Avalanche. Since the Avs traded goaltender Craig Anderson to the Ottawa Senators on February 18 and then defenseman Kevin Shattenkirk and forward Chris Stewart to the St. Louis Blues the next morning, they are just 1-6-1, getting out scored 31-14 during that stretch. Furthermore, they've allowed five goals three times, four goals twice and two goals or less only once in those games. And it'll be the second game in as many nights for them. It goes without saying, it's a must-win for Nashville. Colorado is a team they should put away early and often. The Avs have nothing to fight for and have already started booking golf outings for mid-April. Does it mathematically eliminate the Preds from the dance if they lose? Of course not, but if the Avalanche come into Music City and manage to pull out a victory (overtime or not), it proves that the Preds have zero killer instinct and, quite frankly, don't deserve a spot in the post season. To be a playoff team, you must beat the teams you should beat. This is Nashville's chance to prove they can do just that.
The puck drops at 7:05pm on Saturday night.
LEFTOVER THOUGHTS:
* This was the third consecutive Finn vs. Finn goaltending match-up for the Predators. On Sunday, it was Calgary's Miikka Kiprusoff vs. Rinne, on Tuesday it was San Jose's Antti Niemi vs. Rinne and tonight, of course, it was Minnesota's Backstrom vs. Rinne. (Special thanks to Josh Cooper for that tidbit.)
* The Predators have only allowed 60 goals on home ice this season.
* Coming into the game, Nashville forwards had only found the back of the net 21 times in the past 11 games. That's less than two goals a game. They got all four tonight.
* Erat now has scored multiple points in three straight games for the first time in his career. (Special thanks to 104.5 the Zone's Jacob Underwood for that stat!)
* Speaking of Erat and scoring, he now has eight points in his last six and 23 since January 16 (24 games).
* Minnesota had just nine shots on goal through two periods.
* Ward led all Preds with six shots on goal.
* Weber and Ryan Suter had a game-high plus-3 rating.
* Kevin Klein, who was supposed to miss tonight's contest with a hurt ankle, led the team with five hits.
* Teemu Laakso was called up this morning but did not play, proving it was more of an insurance policy in case Klein couldn't go.
* All four Nashville goals came at even strength.
* The Preds are now 2-1-2 in their last five but 3-5-2 in their last 10.
* With a win over Colorado on Saturday and then a win over Los Angeles next Tuesday, the Predators could (if things go in their favor in other games) be in 4th place.
THE THREE STARS OF THE GAME:
1) Nick Spaling (NSH)
2) Pekka Rinne (NSH)
3) Joel Ward (NSH)
—
PHOTO CREDIT: Jeremy K. Gover // section303.com