Preds find some offense, still lose in final seconds…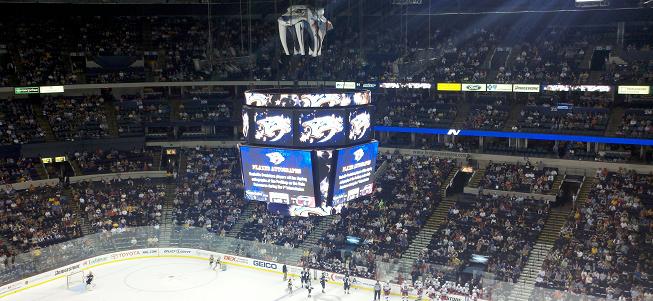 One thing is certain. You did not want to be on that long flight home.
The Nashville Predators lost a heartbreaker to the Anaheim Ducks on Sunday night, 5-4 in front of 13,520 at Honda Center. Nashville got goals from Steve Sullivan, Patric Hornqvist, Cal O'Reilly and Cody Franson in the losing effort.
The loss was the fifth in a row for the Preds and was the first loss of the season when they've scored four goals.
Nashville goaltender Anders Lindback had a respectable 32 saves, including 14 in the final period to keep his team in it but it wasn't enough.
The Ducks wasted no time getting on the board. Just 0:52 into the contest, Teemu Selanne scored one of the easiest goals of his career (with a goaltender on the ice). With Lindback still commited in the direction of the initial shot, the rebound came to Selanne who had spun off Shea Weber in front. While standing at the top of the crease, Selanne just tapped it home uncontested.
Nashville bounced right back, however. O'Reilly saw Hornqvist in front of Jonas Hiller and fired a soft wrist shot on net. Hornqvist did what he does best and tipped it home for the equalizer.
Anaheim re-took the lead with just over half the period gone. Saku Koivu beat Shane O'Brien off the boards and got a clean shot off from point-blank range on Lindback, putting the Ducks ahead 2-1.
The Preds would have an answer before the period was over, luckily. Sullivan made a sweet move down low and put a back hander over a n out-stretched Hiller for his fifth goal of the season and his first since October 14.
After a second period in which Nashville couldn't convert on several power plays, the Ducks struck first in the third. Lubomir Visnovsky found himself all alone in the slot with, once again, all the Predators watching the puck and not taking a man. He wristed a shot into the Nashville net to put his team up 3-2.
Minutes later, Franson then put an innocent shot toward the net and the puck deflected off of Anaheim's Cam Fowler in front and in to tie the game once again.
After O'Brien took a penalty for holding, Anaheim found themselves on the man advantage and Koivu bagged his second of the game to put them back on top.
But, in keeping with the pattern both teams had established thus far, Nashville answered. With just under four minutes remaining in regulation, O'Reilly scored his second of the year on a sweet one-time defelction from Franson.
Here's where it gets bad.
The Predators manage to kill off a Jordin Tootoo slashing penalty just seconds after O'Reilly's game-tying goal and it looks like they're actually going to get at least a point out of this game. Which, given the previous two games, they'd love to have. Instead, after a flurry of chances (but no shots) in the Anaheim end, Bobby Ryan hits a breaking Paul Mara with a cross-ice feed who put it in the back of the net with less than two seconds on the clock.
In case you were wondering, there were three Preds defending in those final seconds and yes, per usual, all three were watching the puck and not taking a man. Mara got free, nobody saw him and, by the time the pass hit his stick, the result was decided. Look at the picture here. Weber, Francis Bouillon and Marcel Goc are all looking at the puck carrier, Ryan. Mara, with his stick on the ice, is breaking toward the net with nobody even aware he's there.
It's been those kinds of plays that have gotten Nashville into their current five game losing streak. Yes, not being able to score goals has helped but they did score three in the Phoenix game on Wednesday in a game they should've won and, in tonight's contest, they broke out with four. It's their lack of attention to detail that has dug this hole and, in order for them to dig their way out, they need to take a Hockey 101 class and start doing the fundamentals.
The good news is that with the strong start to the season, they're not too far behind. The other good news is that they hit a really rough slide last year around this time and still made the playoffs. So, while there's a silver lining, it's tough to watch this kind of effort game in and game out from a team who can play much much better.
Nashville has three long days off before they'll get an opportunity to try and right the ship again. St. Louis, Missouri is where they'll have their next chance and that's on Thursday night.
LEFTOVER THOUGHTS:
* Head Coach Barry Trotz coached his 915th game on Sunday, moving him past the legendary Toe Blake for 5th on the All-Time "Games Coached with One Franchise" list.
* Wade Belak almost got himself an assist tonight. He found JP Dumont at the side of the net but, when he one-timed the pass, he hit the post.
* Nashville only had three shots on goal in the third period, two of them went for goals. The lone shot that didn't convert was a long dump-in on goal by Nick Spaling.
* Koivu tallied his 700th NHL point in the contest.
* O'Reilly had a goal, an assist and finished a plus-3 despite his team allowing five goals.
* Nashville is now 2-5-1 with Suter out of the lineup.
THREE STARS:
1) Paul Mara
2) Saku Koivu
3) Teemu Selanne