Preds find their game in third, beat Avs…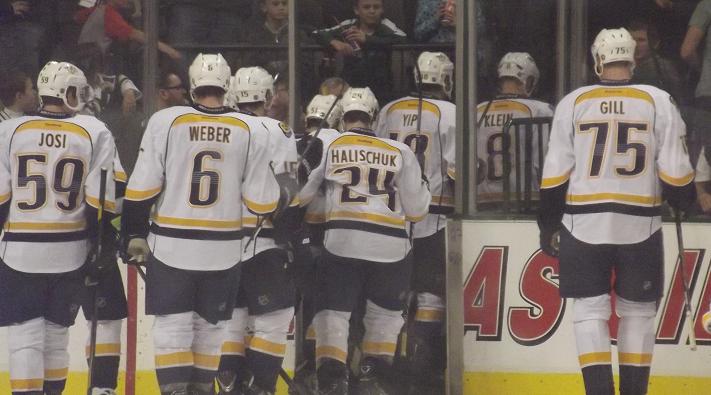 Coming into the night, the Nashville Predators were two points out of 9th place in the West. By contrast, the Colorado Avalanche were dead last in the conference and appeared near death as far as their playoff hopes were concerned.
In short, this was a game the Predators had to win. Not just to pull themselves up the conference ladder but also because Colorado is a team they have to beat if they want to get into the dance for the eighth time in nine years.
Thankfully, they turned in another gritty performance and brought home a 3-1 victory. Goals from Patric Hornqvist, David Legwand and Paul Guastad along with 25 saves from Pekka Rinne combined for Nashville's 15th win of the year.
The Predators finish the night with 38 points and are tied with the St. Louis Blues for 8th (but sit in 9th since they've played three more games).
More than the win itself, it was how the Preds won that was most impressive. This team has lacked consistency all season long but, in the past three games have played closer to their hard-working, defense-first, timely-goals identity. On Saturday, they deserved a better fate but dropped a 1-0 decision in overtime thanks to a 34-save shutout performance by Semyon Varlamov. Then, on Monday, Nashville rebounded from a weak second period with a gritty third to force the league-leading Chicago Blackhawks to overtime. They would eventually lose in the shootout but they battled back in a game in which they easily could have thrown in the towel after 40 minutes.
Then came tonight.
Down 1-0 early in the final stanza, the Preds battled back once again, this time en route to a win.
"We're getting better game-by-game here," defenseman Victor Bartley said. "Tonight was a big stepping stone. Three games in four nights, two on the road with travel. Tonight's game came down to who wanted it more."
Nashville has now gotten points in six of their last seven games. And, in a truncated season like this, every point counts.
"We still have work to do," Hornqvist said. "We were working for lots of pucks tonight then they scored the first goal in the third but we never gave up. It was a good team effort. That is exactly how we have to play here to get into the playoffs."
During the first 40 minutes, both the Avs and Preds got their share of chances but, like Saturday afternoon's game, nobody could find the back of the net.
Matt Duchene got things started when he stole the puck in his own zone and raced up ice, beating every player in Gold, and put a wrist shot past Rinne for the 1-0 lead.
But then the Preds kicked it into gear. Using the power play, Hornqvist was able to get a stick on a Taylor Beck attempt that ended up crossing the line for the equalizer. The goal was reviewed for a possible kicking motion by Beck but, ultimately, was allowed to stand.
With just 1:14 remaining in regulation, Legwand took a Beck feed from behind the cage and stuffed it past Jean-Sebastien Giguere to make it 2-1.
"I think Duchene fell there and there was a little opening," Legwand said. "Giguere hasn't played much this year and we took advantage tonight."
Gaustad would add the empty netter in the final seconds to close out the scoring. Veterans Hornqvist and Legwand would end with two points each but the real surprise was the rookie Beck. He played well in every area of the ice, dazzled the crowd with a spin-o-rama attempt in the second period and even collected two assists. He now has six points in his first eight NHL games.
"Taylor works so hard all the time," Bartley said about his Predators and Milwaukee Admirals teammate. "He's got that nose for the net no matter where he is. Whether he's in the corner or if he's in the high slot, he's a guy that's going to make the right play. It showed tonight and it ended up paying off."
Points in seven of their last eight is nice but where has this team been all year? Before last week, if you looked up "inconsistent" in the dictionary, the Predators logo would be next to it. Yet here we are less than 24 hours before the trade deadline and they just turned in their third straight solid performance.
"It's just the realization that this team isn't going to win on individual talent," Bartley said. "To be able to win we have to do all the small details. Play as a team, play in the system and that's how we're going to be able to win games."
And they had better keep playing that way because the schedule doesn't get any easier. On Thursday, they'll take on a Columbus Blue Jackets team that actually believes in itself and then they'll play a home-and-home this weekend against the West's best, the Blackhawks. Considering they've played more games than any other Western Conference team, they'll need to keep collecting points if they don't want to be on the outside looking in come April 28.
Speaking of points they need to collect, the puck will drop at Bridgestone Arena at 7:00pm Central on Thursday night.
***
MY THREE STARS (as voted on with 6:00 remaining in regulation):
1) Patric Hornqvist (NSH)
2) Jean-Sebastian Giguere (COL)
3) Pekka Rinne (NSH)
THE THREE STARS OF THE GAME:
1) David Legwand (NSH)
2) Pekka Rinne (NSH)
3) Patric Hornqvist (NSH)
—
PHOTO CREDIT: Melissa Grissom (used with permission)