Sullivan celebrates 1,000th game with a Coyotes win…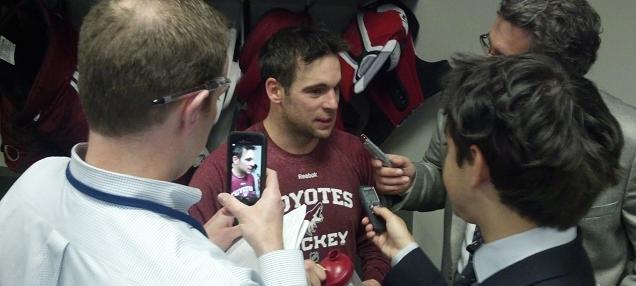 It was Steve Sullivan's special night. Throughout his career he'd been a late round draft pick, been put on waivers, dressed for more than his fair share of teams and even suffered a back injury that kept him off the ice for almost two full years. He went through all of that but it was all worth it because tonight, in front of the fans that loved him for seven years, Sullivan became just the 285th player in the 95 year history of the NHL to play 1,000 games.
"It was just meant to be," the former Predator said. "Back in 2009, when I first came back (from injury) and set that goal for myself — for 1,000 games — when I sat back at night and dreamt about what it's going to feel like to reach that goal, it was always on this ice surface. Obviously, I couldn't be here as a Nashville Predator but to be able to come here as a visitor still and to be able to look around and see all the fans, it was a perfect setting for me to play my 1,000th game."
He may don the colors of the Phoenix Coyotes now but the Timmons, Ontario, native played in 317 games for the Predators between 2004 and 2011, was an alternate captain for four years and is still fourth on the club's all-time list in goals (100), seventh in assists (163) and sixth in points (263). He was (and continues to be) a fan favorite here in Music City, he was tremendous in the community and was the first star player to don the saber-toothed tiger on his chest.
"I believe deep down inside that I'm a Predator and always will be," Sullivan said. "Hopefully, when this ride ends, I can always come back and help out in some way, in some shape or form, somewhere here."
Sullivan and his Coyotes beat the Preds, 7-4, in a wild one. Pekka Rinne allowed three goals on four shots before being pulled in favor of back-up Chris Mason. But Mason didn't fare much better and would be pulled himself. He would finish out the first period having allowed three goals of his own on nine Phoenix shots.
Before you blinked, the Coyotes were up 5-0. You looked up at the jumbotron when the fifth goal went in and only 8:26 had ticked off the clock.
"Mentally that's pretty stunning," Nashville Head Coach Barry Trotz said. "That doesn't happen very often. I've been here a long time and I can't remember being down 5-0 so quickly in a game."
The Predators got goals 0:30 apart from David Legwand and Rich Clune halfway through the first period to give the 17,113 faithful inside Bridgestone Arena some hope. A few minutes later, however, Phoenix would register their team record sixth goal of the period. Not going into the locker room quietly, Gabriel Bourque responded by beating Jason Labarbera a third time. But Phoenix had already gotten all the offense they'd need.
Despite some good pressure by Nashville to start off the second stanza, Phoenix bagged a back breaker. The Predators failed to mark up in front of Rinne and Antoine Vermette was left all alone. The puck found it's way to him at the top of the crease and Rinne had absolutely no chance on the shot. Vermette scored his eighth of the year to give the Coyotes the 7-3 lead.
"I would liked to have won the second period," Trotz said. "If we had won the second period, with them going through a little bit of tough times, I think we could have did something. But we didn't."
The Coyotes had lost seven straight (0-5-2) coming into the contest, including a surprising overtime loss to the Minnesota Wild last night.
"We were sitting there down 3-0 against a team who played last night," Trotz said. "You just want to have a push-back. You're thinking 'Alright, if we get one, it's 3-1 and we're fine.' But we didn't get a push-back until it was 5-0."
Shea Weber would add a fourth goal midway through the final frame to make things interesting but it was too little, too late for Nashville. They had allowed Phoenix to do all the necessary damage in the first period.
Trotz and the Predators will have to quickly leave this game behind and focus on the Colorado Avalanche. They play another matinée tilt against the Avs on Saturday afternoon in Denver and they'll need the points. They're currently on the outside looking in and need to decide within a matter of days whether they're a buyer or a seller at April 3rd's trade deadline.
Puck drops at 2:00pm Central and you can catch all the action on FS-Tennessee and 102.5 The Game.
***
MY THREE STARS (as voted on with 6:00 remaining in regulation):
1) Rostislav Klesla (PHX)
2) Radim Vrbata (PHX)
3) Steve Sullivan (PHX)
THE THREE STARS OF THE GAME:
1) Radim Vrbata (PHX)
2) Rostislav Klesla (PHX)
3) Martin Hanzal (PHX)
—
PHOTO CREDIT: Jeremy K. Gover // section303.com