Preds get back in the win column, beat Dallas…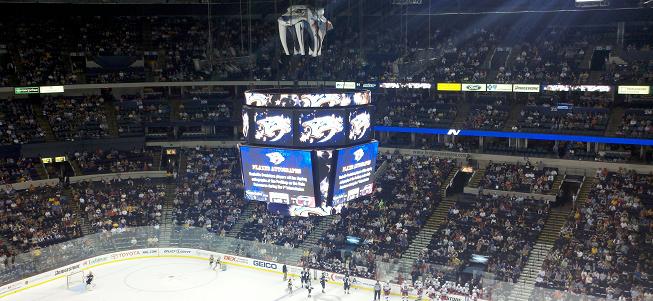 They had lost three games in a row, all in overtime.
On Saturday, the Nashville Predators finally felt what it was like to win again.
The Preds beat the Dallas Stars tonight 1-0 on an early goal by Cal O'Reilly and through a 30 save performance by goaltender Pekka Rinne. The Preds improve to 4-0-3 on the season and remain undefeated in regulation.
Now the focus turns to their next game. A game that will be over in less than 24 hours.
Tomorrow night, Nashville will visit the St. Pete Times Forum to face the Tampa Bay Lightning in an early start time of 5:00pm Central. Tonight's game against Dallas finished around 9:30pm Central, meaning the Preds will play two games, in two different cities, in two different conferences, in two different time zones, within a 20 hour span.
For the second straight game, the Predators struck within the opening minute. O'Reilly tipped in a Shea Weber shot from the point to put Nashville up 1-0. as it turned out, it was all the scoring they'd need.
In the second period, after the Preds took a too many men on the ice penalty, the Stars got several solid scoring chances, including when James Neal found the puck on his stick with an empty net to shoot at. David Legwand, however, tied his stick up and Neal put the shot high and wide, saving a sure goal.
Nashville has only played on back-to-back nights once so far this season, winning both. The difference being both were divisional opponents and the second game was in the comforts of their own home building.
While it may not happen, we may see, for the first time ever, Rinne and Dan Ellis on the ice at the same time on Sunday afternoon. Ellis signed with the Lightning in the off-season but has since been relegated to back-up duties once again. Mike Smith is the starter in Tampa and may get the nod tomorrow. If Ellis does get the start, however, one can only hope Rinne gets the call as well, despite playing in Saturday's game.
As far as tonight's game goes, however, please visit the Predators blog site predlines.com. Amanda DiPaolo was in attendance for tonight's game and will have a full recap shortly live from Dallas.
LEFTOVER THOUGHTS:
* In the third period, it was announced that Predators forward JP Dumont would not return due to an injury.
* The injury bug has a pattern. Games one and two, games four and five and now game seven. Expect another injury tomorrow.
* Patric Hornqvist led all Nashville skaters with five shots on goal.
* Through two periods, recent call-up Nick Spaling had won all four face-offs he was involved in. He finished 4-1 inside the dot.
* Fun fact: Former Pred Cliff Ronning was the first player to score a goal inside the American Airlines Arena.
* On a serious note, Miami of Ohio defenseman and 2007 second round pick (Columbus Blue Jackets) Will Weber (no relation) got his carotid artery nicked by another player's skate tonight. Please keep him in your thoughts and prayers.