Preds getting creative to Keep the Red Out (sorry Chicago fans)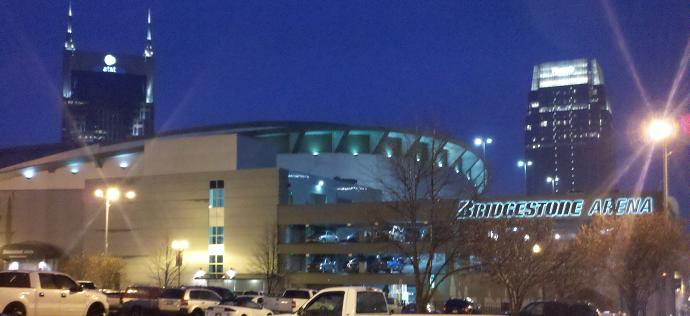 When the Chicago Blackhawks come to town, there's typically a sea of red inside Bridgestone Arena. Chicago, Illinois is a huge market (the third largest in the United States) so it stands to reason that they would have fans everywhere and, in addition, their fans would travel well.
Of course, winning Stanley Cups helps too.
"Remember that game we had against them where there were probably 100 Blackhawks fans here, give or take?" Nashville President and Chief Operating Officer Sean Henry asked sarcastically. "All in really new jerseys with crisp name plates? Some of them live here obviously but others came down. And why did they come down? Their team was on fire, they couldn't get a ticket back home and it was a lot cheaper to come down and have a great weekend here."
Sorry Chicago fans but it's about to get a lot tougher for you to repeat that.
The Predators unveiled the Keep the Red Out campaign when they were set to play their arch rival, the Detroit Red Wings, in the opening round of the 2012 Stanley Cup Playoffs. They furthered the effort by offering a Predators Pro Shop deal to the numerous Detroit transplants that live in Middle Tennessee. If you traded in your Detroit jersey, you could get 50% off a new Preds gold jersey. The promotion was met around the league with both heavy skepticism and respectful applause but, regardless of the perception, it had success. According to the Predators, roughly 300 Red Wings jerseys were exchanged. After many years of seeing less and less winged wheel in the stands, now Nashville had tangible evidence that there was a transition happening.
Fast forward a year and a half and the Predators are continuing the effort. This time, however, due of the sudden explosion of Blackhawks fans that seem to have come out of the woodwork.
"If I said we were doing this plan five years ago, you would've said 'Oh, for the Red Wings!' of course," Henry said. "When we played them in the playoffs, we kept the red out there. Why? A lot of their fans that live here really converted over."
So Nashville is getting creative. This season, for the first time, you will not be allowed to buy single game tickets for the November 16, December 17 and April 12 home dates against the Blackhawks. In order to get tickets to those games, you'll be required to purchase a second game as well.
"For Blackhawks games, we want to make sure that we preserve this building as much as we can for those who live in Smashville," Henry said.
That's a great thought and all but how do they intend to do that?
"The best way to buy a Blackhawk ticket is to have a season ticket, a half season ticket or a 15-game plan," Henry said. "But we also realize that we're still going to have to sell 3,000-4,000 single tickets for that game. What it's going to do by forcing another game is we'll almost direct it toward people that live in the general area, for the most part. And (for the pre-sale) only those in the zip codes that we unlock can buy the Blackhawk game and a second game. So we're breaking down every barrier we can to Keep the Red Out."
That helps keep Chicago fans at bay, for sure. But what if Blackhawks fans really want to jump through hoops to see their team play in Music City?
"They're going to have to earn it," Henry said. "And they're going to help us continue to grow our roster by building our (revenue at the) gate. It's that simple. In the end, we're building something pretty special. If we have to do it off the backs of their fans a little bit, I'm not apologizing for it.
"We don't want to build those ticket grosses off of our core — our lifeblood — the season ticket holders. We want to build it off the single game buyers who only want to buy those games."
Not able to go to that second game you're forced to buy but still really want to see the 2013 Stanley Cup Champions? The Preds have that covered as well.
"We've built in a plan where they can donate the ticket back to members of the military," Henry said.
Whether you like the idea or not, you have to applaud the organization for the attempt. When it's all said and done, however, it'll be interesting to see how this goes over. Nashville sold out 25 of its 41 home games in 2011-12. Then, coming off of a lockout that should have driven fans away, they sold out 20 of 24. Can they keep that momentum up while making it harder to get the most sought-after ticket? Or is it just good business, like how airlines charge more for more popular destinations? And, if it is just good business, is the Nashville market ready to accept that in order to go to a hockey game? We see both arguments and are very curious as to how it'll turn out.
One thing is for certain: we're very excited to see more gold and less red at 501 Broadway, regardless of how it happens.
—
PHOTO CREDIT: Jeremy K. Gover // section303.com