Preds announce Rookie Camp dates, schedule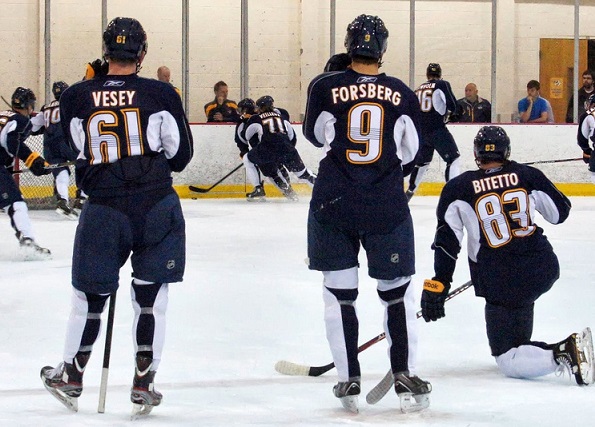 Nashville, Tenn. (August 22, 2011) – Nashville Predators President of Hockey Operations/General Manager David Poile announced today that Nashville Predators prospects will report to town on Wednesday, Sept. 4 before heading to Sunrise, Fla., for games against rookies from the Florida Panthers, Tampa Bay Lightning and Boston Bruins from Sept. 6-8 at Saveology.com Iceplex.
The Predators team, comprised of signed and unsigned draft picks, free-agent signings and free-agent tryouts, will be coached by Milwaukee Admirals (AHL) Head Coach Dean Evason and assistant coach Stan Drulia. Among the 22 players scheduled to participate are first-round picks Seth Jones (fourth overall in 2013), Filip Forsberg (ninth overall in 2012), Austin Watson (18th overall in 2010).
This marks the fifth consecutive rookie camp that Predators prospects have played games against a fellow Sunbelt team, but the first since 2001 that a team of rookies have competed in a tournament. Preds prospects have played two-game sets against the likes of Florida (2011 and 2010), Atlanta (2008 and 2009) and Columbus (2002 and 2003) in recent years. The first four seasons of the franchise (1998-2001), rookies competed in the Traverse City Rookie Tournament.
The games and camp will precede the opening of 2013 Training Camp, which occurs Sept. 11, with physicals and team meetings. The Predators' first day on the ice will be Thursday, Sept. 12 at Centennial Sportsplex and they will play seven preseason contests from Sept. 16-Sept. 27, including a pair at home (Sept. 22 vs. NY Islanders and Sept. 24 vs. Tampa Bay).
Full rookie camp schedule is as follows and a roster is attached (all times Central):
Thursday, Sept. 5
Time                                         Event                                                        Location
1:00-1:30 p.m.                    Goalie Session                                       Centennial Sportsplex
1:30-3:00 p.m.                    Practice                                                   Centennial Sportsplex
3:30-4:45 p.m.                    Off-ice workouts and meetings       Centennial Sportsplex
Friday, Sept. 6
Time                                         Event                                                        Location
8:00 a.m.                               Depart for Florida
5:00 p.m.                               Game vs. Florida prospects            Saveology.com Iceplex
Saturday, Sept. 7
Time                                         Event                                                         Location
11:00 a.m.                             Game vs. Tampa Bay prospects     Saveology.com Iceplex
Sunday, Sept. 8
Time                                         Event                                                         Location
11:00 a.m.                             Game vs. Boston prospects             Saveology.com Iceplex
5:10 p.m.                               Depart for Nashville
Monday, Sept. 9
Day Off
Tuesday, Sept. 10
Time                                          Event                                                        Location
10:00-10:30 a.m.                Goalie Session                                      Centennial Sportsplex
10:30 a.m.-12:00 p.m.      Practice                                                  Centennial Sportsplex
12:30-1:45 p.m.                    Off-ice workouts and meetings     Centennial Sportsplex
—
PHOTO CREDIT: Sarah Fuqua (used with permission)