Preds give NHL's best all they can handle but still lose series…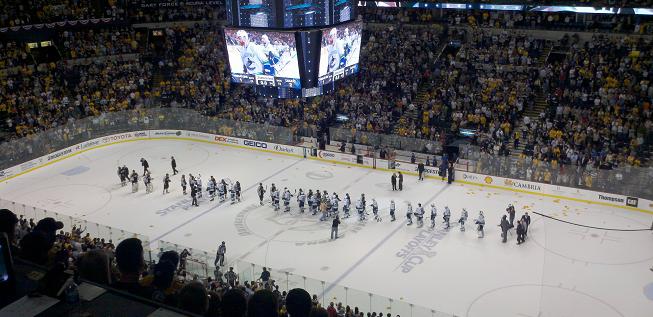 They were the President's Trophy winners and they were the Stanley Cup favorites.
And the Nashville Predators gave them just about all they can handle.
In yet another one-goal game, the Canucks edged out the Preds, 2-1, in front of 17,113 inside Bridgestone Arena on Monday night. Five of the six games in this series were decided by a single goal and there were only two legitimate two-goal leads in the Western Conference Semifinal with each team having one.
Pekka Rinne, who played some of his best hockey in the last two weeks, managed just 17 saves on 19 Canucks shots but got little help on the first one.
In the first period, Preds defenseman Ryan Suter made an ill-advised backhand pass to Shea Weber about 10 feet in front of Rinne. Predator killer Ryan Kesler broke up the pass and dished it to Mason Raymond for the opening tally.
Then, after Jordin Tootoo was called for "embellishment" (referee's words, not mine) after trying to gain the Vancouver blueline, the Canucks turned right around and scored on the power play. Daniel Sedin, last year's Hart Trophy winner, made it 2-0.
The much-maligned (and playoff performer) David Legwand got the Predators on the board with a routine dump-in on net just trying to get his team a whistle. Instead, he got his team a goal. The first pick in franchise history was standing on the Vancouver goal line when he just put the puck into Luongo. The Vancouver goaltender fell backwards into the net and, therefore, so did the puck. It's amazing what happens when you put pucks on net, eh?
In the final period of the season, the Predators managed just six shots on goal and, obviously, that wasn't enough. They just couldn't muster enough quality chances and, when they did shoot, couldn't get shots through to Luongo.
It was a heart breaking end to a history making year.
Typically this is where I'd tell you about where the next game will take place and what the Preds need to do in said game. Instead, I have the heart-breaking task of telling you that we have to wait until September to utter those words again. What a season this has been. From the best in the West to 13th and out of it to a final weekend push for home ice advantage. Not to mention last minute and overtime playoff heroics by both those who you expect and by those you don't.
Today, even with the loss, is a great day to be a Preds fan.
With tears in my eyes…. see you in September.
LEFTOVER THOUGHTS:
* Weber finished with a team high six shots on goal.
* The Canucks took six penalties in the game. Nashville took four.
* Sergei Kostitsyn registered his first point of the series tonight.
* Joel Ward, with his assist tonight, moved into a five way tie for third in playoff scoring.
* Kesler, who had two assists in tonight's contest, now leads the NHL in post season points with 15.
* Speaking of Kesler, he had 11 points in this series. The Predators scored 11 goals as a team. Yikes.
* Shane O'Brien and Colin Wilson were the only Predators skaters (who played) to go pointless in the playoffs.
* If the Canucks go onto win the Stanley Cup, it will be the Preds' third straight playoff opponent who's sent them packing to do so. (Detroit in 2008 and Chicago in 2010).
* Vancouver now advances to the Western Conference Final for the first time since their Stanley Cup Finals run in 1994.
* Jerred Smithson had one goal in the post season. It was an overtime winner.
MY THREE STARS (as voted on with 5:11 left in regulation):
1) Ryan Kesler (VAN)
2) Mason Raymond (VAN)
3) David Legwand (NSH)
THE THREE STARS OF THE GAME:
1) Ryan Kesler (VAN)
2) Mason Raymond (VAN)
3) David Legwand (NSH)
—
PHOTO CREDIT: Jeremy K. Gover // section303.com