Preds go the dramatic route, beat Sharks late…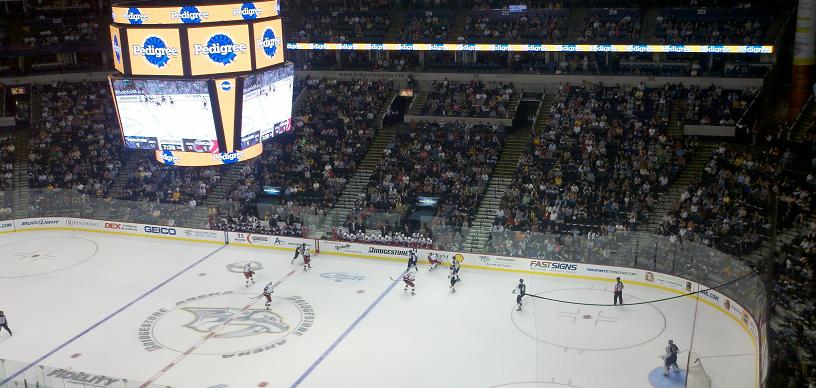 The game was kind of a snooze fest.
Until a span of 44 seconds changed all that.
The Nashville Predators used a late surge to topple the San Jose Sharks 3-2 on Wednesday night in front of 14,731 at Bridgestone Arena. The Preds got a fluke goal from Jordin Tootoo in the first and then goals 44 seconds apart late in the third from Sergei Kostitsyn and Colin Wilson to get the come from behind win.
Anders Lindback secured his fourth win in a row and his fifth win in his last six. He collected 25 saves in the victory, many of them of the difficult variety.
The Sharks got the ball rolling early on. Niclas Wallin shot a rolling puck past Lindback to put the visitors up 1-0 just over seven minutes in. Despite the Preds outshooting San Jose 13-9, it was the Sharks who went into the intermission with the lead.
Midway through the game, Tootoo was skating hard to beat out the icing call. He won the race and just flipped a backhander towards the front of the net. Former Predator Scott Nichol apparently forgot which team he was on and put it in his own goal to get Nashville the equalizer.
Just seconds after Shane O'Brien took an obvious tripping penalty, the Sharks re-took the lead on Dany Heatley's 14th goal of the season. He is now tied with rookie Logan Couture for the team lead in goals.
Late in the final stanza, the Predators came alive. All it took was one goal to get the swagger of the three game win streak back. Kostitsyn wristed one past Niemi to tie the game and then, just 44 seconds later, Wilson one-timed a perfect tape-to-tape pass from Steve Sullivan past the former Chicago Blackhawks goaltender for the game-winner.
With this win, against a quality Western Conference opponent, Nashville should have all the confidence in the world. Yes they had impressive victories over the New York Islanders and Florida Panthers but, let's be honest, those teams are not the San Jose Sharks. So, with this win, they must feel like they can beat anybody, in any fashion. And that can mean only good things going forward.
The Preds next game is on Friday in New Jersey. They'll take on the struggling New Jersey Devils. This is the game that we all thought (and some of us still think) that Mark Dekanich will get his first NHL start. Lindback's been playing well, this is true, but it is the first game of a back-to-back set. Not to mention there's travel involved. Not to mention Saturday's game – at home – is against a conference opponent.
Puck drops at 6:00pm Central and it will be available on FS-Tennessee.
LEFTOVER THOUGHTS:
* Patric Hornqvist was kept out of the lineup with an upper body injury.
* Tootoo's goal was unassisted so, for Nashville, it wasn't a big night for padding the ol' stat sheet.
* Kostitsyn's goal extended his point-scoring streak to seven games. He's tallied nine points in that span.
* Lindback has still only lost one game in regulation in his NHL career. With the win tonight, he improves to 8-1-2 on the season.
* Niemi stopped 13 shots in the final period but needed to stop the two he let in order for his team to win.
* Wade Belak, who played due to the late scratching of Hornqvist, took just two shifts on the night.
* Shea Weber continues to chip away at his plus/minus rating. He finished a plus-1 tonight, bringing his season total to a minus-4. He was a minus-10 after the Columbus game on December 1.
* Weber led his team in shots on goal with 6.
* Each team took four penalties.
* The loss drops the Sharks to eighth in the West.
* The win puts Nashville in fourth.
* On a personal note, I got to thank a true hero of mine tonight. Drew Remenda, the TV color man for the Sharks was my very first sports interview. I was 22 years old, not in college, and he had no reason to do it. There was nothing in it for him or the team, I was just a kid who wanted to be a sports writer looking to interview someone in sports. Remenda gladly accepted, made an appointment with me, took me down to the bowels of the HP Pavilion into some conference room where we could have peace and quiet, and gave me 30 solid minutes of material. For no reason at all. He gave me the confidence (even though I was terrible) that I could do this whole sports writing thing. So, in a way – a big way – he is the reason I am sitting here today, in media row, covering the Predators. And tonight, I got to thank him face-to-face. I'm all smiles.
MY THREE STARS (as voted for with 6:12 left in regulation):
1) Antti Niemi (SJ)
2) Dany Heatley (SJ)
3) Anders Lindback (NSH)
THREE STARS OF THE GAME:
1) Colin Wilson (NSH)
2) Anders Lindback (NSH)
3) Sergei Kostitsyn (NSH)