Preds lose in Bang's debut…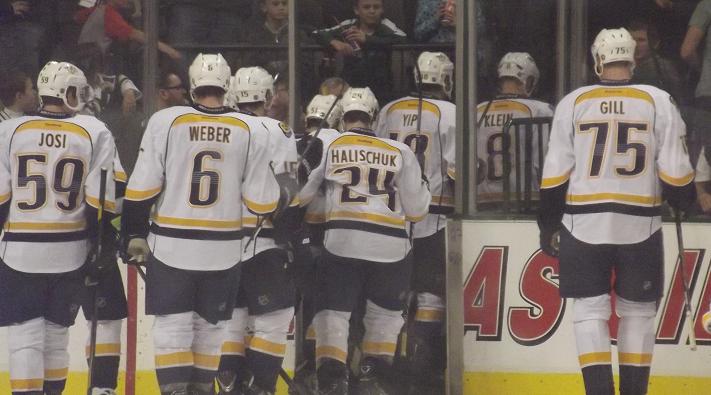 On Tuesday night's roster for the Nashville Predators were four guys who have made their NHL debut in the last 31 days. Also suiting up were eight players who have played at least some part of the season in Milwaukee and 10 who have played in the AHL.
After dropping a 1-0 decision to the St. Louis Blues on Tuesday, the Predators have now dropped four in a row and it doesn't take a rocket scientist to figure out why.
"We're not in a great situation with the number of players that have been called up," Head Coach Barry Trotz said.
Thanks to injuries to Colin Wilson, Mike Fisher, Brandon Yip, Paul Gaustad and the trade of Martin Erat, the Predators have recalled Taylor Beck, Austin Watson and Chris Mueller recently. Now add winger Daniel Bang to that list as he made his NHL debut on Tuesday.
"There were a lot of emotions out there," Bang said. "I just went out and tried to keep it simple. It's tough to lose the first game but, I guess, it's something I'll remember forever."
The crowd of 15,063 inside Bridgestone Arena would have to wait until late in the second period to see some scoring. And, when the scoring did come, it was the wrong team that provided it. Blues winger Alex Steen wound up in the face off circle to Pekka Rinne's stick side and blasted it past the Nashville netminder for the 1-0 lead.
"It's always disappointing when I give up a goal like that," Rinne admitted. "But it's just the way things have been going and it seems like it's hard to change."
It was the only offense they would need as the Predators mustered just 15 shots on goal and, despite some decent chances, Brian Elliott didn't cough up a single rebound en route to his second shutout of the year.
"It was a pretty tight game," Bang said. "You've just got to go strong to the net and keep pushing."
"That's not a door mat team," Trotz said trying to find a positive in a season full of negatives. "They've won five in a row and they've only given up five goals (in those games). They're as strong defensively as anyone in the National Hockey League. We were right there against a very good team."
The Preds will have two days off before tackling the Dallas Stars on Friday night. With just a 0.3% chance of making the post season (according to Sports Club Stats), Nashville will either be playing for their playoff lives or already know they're out of it.
"Obviously I wish things would be a little smoother and at least we could give ourselves a chance with other teams' help," Rinne said. "But now it's pretty much gone."
"Everybody's realistic," Trotz said. "Everyone has to be. I think the thing we have to hang our hat on right now is trying to win some hockey games."
We'll see if they can do just that on Friday night at 7:00pm Central.
***
MY THREE STARS (as voted on with 5:56 remaining in regulation):
1) Alex Steen (STL)
2) Pekka Rinne (NSH)
3) Brian Elliott (STL)
THE THREE STARS OF THE GAME:
1) Alex Steen (STL)
2) Pekka Rinne (NSH)
3) Brian Elliott (STL)
—
PHOTO CREDIT: Melissa Grissom (used with permission)