Rinne "outstanding" in loss to Wings…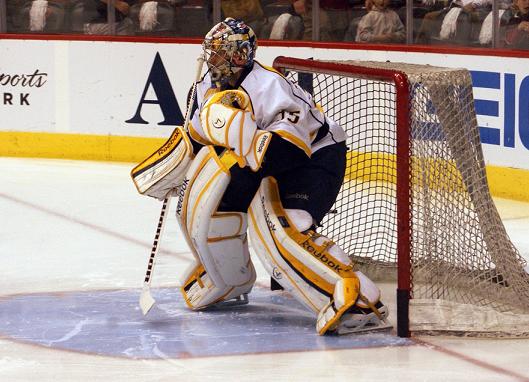 Despite Nashville being out of the playoff picture, there were actually quite a few storylines headed into Sunday night's tilt between the Predators and Detroit Red Wings.
A national television stage courtesy of NBC Sports Network was going to showcase the atmosphere inside Bridgestone Arena, the Red Wings were fighting for their playoff lives and the Preds could deal them a serious blow with a regulation loss, Nashville missed out on stud college free agent Danny DeKeyser a couple weeks ago when he chose Detroit, Michigan-native and first ever Predators draft pick David Legwand was still looking for career goal #200 and this would be the final game in Music City where both teams would be conference rivals.
Oh yeah, and some guy named Filip Forsberg was making his NHL debut.
As the game went on, however, the storyline became Pekka Rinne and his effort between the pipes. He turned aside 29 Detroit shots — including 15 in the second period alone — despite the Preds dropping a 3-0 decision to Detroit.
It was Nashville's sixth loss in a row, falling to 1-6-1 in the month of April.
"The effort is there but the results are embarrassing," Rinne said. "It is not like we're not playing well. We played really well. We just can't get goals and it's hard to win (when you don't)."
The two-time Vezina Trophy finalist stood on his head several times to keep the Predators in the game. There was a sequence where he made three left toe saves and another that saw him make a save with his back. Rinne was that good tonight. But, as is the broken record in Nashville, the team in front of him couldn't chip in offensively.
"In the second period, he was outstanding," Head Coach Barry Trotz said. "I just wish we could have gotten a goal for him."
"We've let them down all year," captain Shea Weber said about his goaltenders. "It's not their fault. They battle for us every night. We have to do a better job for those guys."
Rinne was so good that it took a lucky bounce to finally beat him. In the middle frame, DeKeyser fired a shot from the point that missed the net on the short side but came off the end-boards at such an angle that it found Henrik Zetterberg's stick on the opposite side. With Rinne still positioned for the original shot, the Wings captain one-timed it into the empty net for a 1-0 lead.
It looked like the Preds were poised to tie the game early in the third when Bobby Butler was hauled down on a partial breakaway. A penalty shot was awarded but, on the attempt, the puck rolled off of Butler's stick.
It was just a perfect parallel to how Nashville's 2013 campaign has gone. Just when you think they're going to wake up, score, seize momentum or mount a comeback, something goes horribly wrong. It's just been that way all season and they'll be picking high in this summer's draft as a result.
Johan Franzen and Justin Abdelkader would add insurance markers in the final three minutes to seal the game and give Nashville it's sixth loss in a row.
"We had enough chances to get a point tonight," Trotz said. "We just couldn't find the back of the net and we had a couple of puck management situations where they capitalized."
His captain agreed.
"We have had a lot of (chances) over the past few games," Weber said. "But we still have not found a way to score. We just have to find a way. We just have to find a way to help Pekka out and (Chris) Mason out."
The Predators won't have much time to dwell on the loss. They come right back to Bridgestone Arena on Monday night to take on the Northwest Division-leading Vancouver Canucks.
Puck drops at 7:00pm Central.
***
MY THREE STARS (as voted on with 5:39 remaining in regulation):
1) Pekka Rinne (NSH)
2) Jimmy Howard (DET)
3) Henrik Zetterberg (DET)
THE THREE STARS OF THE GAME:
1) Jimmy Howard (DET)
2) Henrik Zetterberg (DET)
3) Pekka Rinne (NSH)
—
PHOTO CREDIT: Sarah Fuqua (used with permission)