Preds make hands go up and stay there 'til mid-April…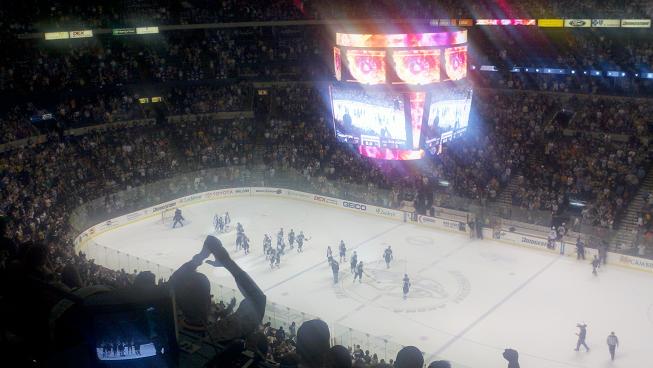 They could've clinched Tuesday, but Dallas won. They could've clinched Thursday, but Dallas won.
Tonight, Dallas….. who cares? The Nashville Predators took matters into their own hands by beating the Columbus Blue Jackets, 4-1 in front of 17,113 at Bridgestone Arena. The Preds got two goals and an assist from Patric Hornqvist as well as a goal from both Matt Halischuk and Sergei Kostitsyn.
Pekka Rinne did his Vezina Trophy dance, making an incredible 44 saves in the victory. The win improves his record to 33-21-9.
Blue Jackets goaltender Steve Mason, the man who was nominated (and won) the Calder Trophy when Rinne better deserved the honor back in 2006-07, was pourus at best. He made just 21 saves for a save percentage of .840 on the night.
Midway through the first period, Blue Jackets forward RJ Umberger found a rebound on his stick but hit the post. Immediately following the clang of metal, the Preds rushed down the ice. Mike Fisher skated through and around Columbus players, eventually getting the puck to Hornqvist in front for his 20th of the year.
After Rinne made six ridiculous saves to start the middle frame, Halischuk made it 2-0 on the other end of the ice. After stealing the puck in the high slot, Halischuk broke in alone on Mason, made a nice move, and deposited the puck through his five-hole to extend the lead.
Then, just moments later, Hornqvist stole the puck from yet another Columbus defenseman and put a weak backhander on net. The puck somehow got through, making it 3-0, Preds.
After Derick Brassard got the Blue Jackets on the board at the tail end of the second, the Predators cashed in late in the third. Hornqvist led a 3-on-1 and upon shooting the puck toward the net, Kostitsyn bagged his 23rd of the season to make it 4-1.
Nashville has one more thing to fight for, however. Home ice advantage. They can obtain that by beating the St. Louis Blues tomorrow night and having Los Angeles, Anaheim and Phoenix all lose at least once (in any fashion) in their remaining games. Nashville owns the tie-breaker over LA (ROW's) and Phoenix (goal differential) but not Anaheim. The Ducks can tie the Predators in the standings but would earn the higher seed by way of more (read: WAY more) ROW's (regulation and overtime wins).
Tomorrow night's contest in St. Louis is the second and final 303 Road Trip of the season. If you're riding on the bus with us, we'll see you in the morning. If you're going but driving on your own, we'll see you tomorrow night.
The puck drops at Scottrade Center at 7:05pm.
LEFTOVER THOUGHTS:
* Tonight's contest was the 16th sellout of the season for Nashville.
* During a first period face-off, a catfish was thrown on the ice. The officials didn't see it until after the puck dropped and play went on for several minutes with it on the ice during play.
* Last game it was Colin Wilson. Tonight it was Blake Geoffrion. Both not knows as fighters. Both won.
* The only Columbus player that gave the Predators a power play was Sami Lepisto. He had three minors.
* Kostitsyn extended his scoring streak to 11-games with his goal.
* On a totally selfish note, we at section303.com retired the old "Cell Block 303" banner tonight and replaced it with a new, updated version. On Tuesday, a parent tore down the old sign while trying to corrale their child. The good folks at Wingate Media came to the rescue and got us a new one in time for tonight's game.*
MY THREE STARS (as voted on with 6:29 remaining in regulation):
1) Pekka Rinne (NSH)
2) Patric Hornqvist (NSH)
3) Matt Halischuk (NSH)
THE THREE STARS OF THE GAME:
1) Pekka Rinne (NSH)
2) Patric Hornqvist (NSH)
3) Matt Halischuk (NSH)
—
PHOTO CREDIT: Jeremy K. Gover // section303.com
—
* DISCALIMER: that "tearing down the sign" event was purely coincedence. section303.com and Wingate Media were already working on getting a new, updated sign. The parent pulling down the sign just came at the perfect time for us to make a "story" out of it. 🙂