Preds manage just 13 shots, suffer first regulation loss of the season…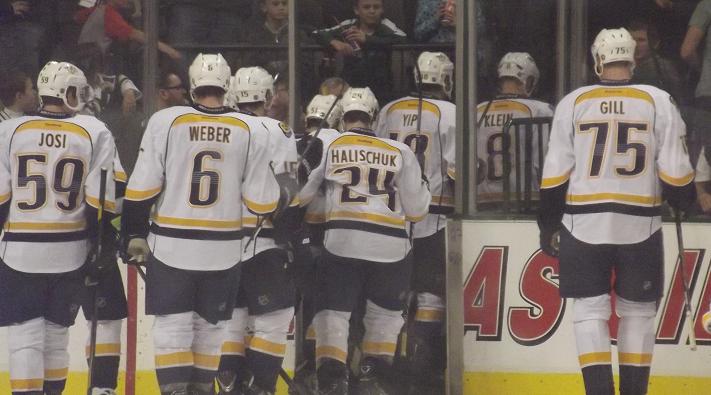 Sometimes it's just isn't your night.
That was definitely true on Thursday night for the Nashville Predators.
In front of 16,047 at Scottrade Center, the Blues thoroughly outplayed the Preds, beating them 3-0. Nashville managed a meesly 13 shots on goal and looked completely out of sync most of the game. They took too much time to make decisions, they had too many errant passes and too many turnovers as a result of both.
Pekka Rinne collected 21 saves, falling to 0-1-2 on the season.
The home team jumped out to the early lead thanks to a hooking penalty. With Mike Fisher in the box, the Blues fired an innocent shot on net. Rinne couldn't glove it through the traffic, however, and TJ Oshie eventually tapped in the Patrik Berglund rebound to give his team the 1-0 lead.
The Blues would add to the damage when Fisher hauled down Berglund on a breakaway. The Blues winger was awarded a penalty shot and buried it past Rinne for the 2-0 lead.
Then, on St. Louis' first shot of the third, whiz-kid Vladimir Tarasenko jumped off the bench. Without being noticed, he snuck behind the Predators' defense and received a cross-ice tape-to-tape pass from Alex Steen for his fourth goal of the season to round out the scoring.
Nashville will try to get their game back when they take on the Anaheim Ducks on Saturday night in Southern California.
Puck drops at 9:00pm Central and you can catch all the action on 102.5 The Game and FS-Tennessee.
—
PHOTO CREDIT: Melissa Grissom (used with permission)