Preds may send Filip Forsberg down to Milwaukee for playing time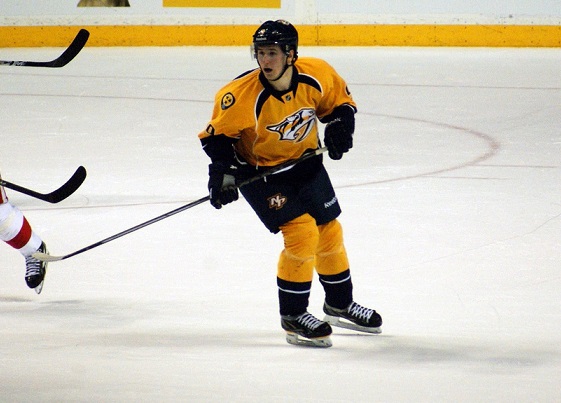 Nashville Predators Head Coach Barry Trotz joined The First Quarter on 102.5 The Game this morning and mentioned that Filip Forsberg may be headed to the Milwaukee Admirals this weekend.
The 19-year old Swedish phenom has four points in 10 games this season, all having come on the power play. Forsberg also totes a team-worst minus-8 rating.
"Not great numbers, especially five-on-five," Trotz said about the rookie's stat line. "I talked to him and, if we get healthy here, I might have him go down to Milwaukee and play three games in three nights, just to get those 20 minute-a-night-type of games in and see if he can get some traction."
The Admirals have back-to-back-to-back games starting on Friday in Texas.
Nashville is no stranger to sending forwards to Milwaukee in order for them to rediscover their confidence. Last season, Craig Smith and Matt Halischuk were both sent down on "conditioning assignments." Smith was sent down on March 22, played four games for the Ads and tallied five points. Halischuk went down a couple weeks earlier, posted three points in two AHL games and then, once recalled, registered 10 points in his final 20 NHL games. It's worth noting that Halischuk had just one point before the conditioning stint.
"One of the things you find as a coach, you cannot give a player confidence," Trotz said. "A player has to produce to have confidence. You can pat him on the back and encourage him but it doesn't give him confidence. All it does is encourage him. With Filip, I don't want him to lose too much confidence in his own abilities."
Forsberg was the prized take in the Martin Erat trade last season. A top-three talent, he fell to the Washington Capitals at number 11 in the 2012 draft due to an unprecedented run on defensemen. The Predators have had a top five draft pick just twice in their 15-year history. They chose David Legwand second overall before they even laid ice in the downtown area and defenseman Seth Jones fourth overall this past summer. Saying it another way, they've never had the opportunity to take a top-flight, bonafide skilled forward at the top of the draft. The Erat trade gave them that.
An important thing to keep in mind is that Forsberg is 19 years old. He has plenty of time to mature into his potential.
"Tonight he may have a fantastic game and we don't even have this conversation," Trotz said.
When he takes the ice against the Avalanche tonight, it will be his first game against Colorado as he was hurt when the Predators played there on October 4.
Forsberg was assigned to the Admirals once last season but didn't play a game.
Audio of the full interview is below.
—
PHOTO CREDIT: Sarah Fuqua (used with permission)