Longest road trip in franchise history is chance for Preds to bond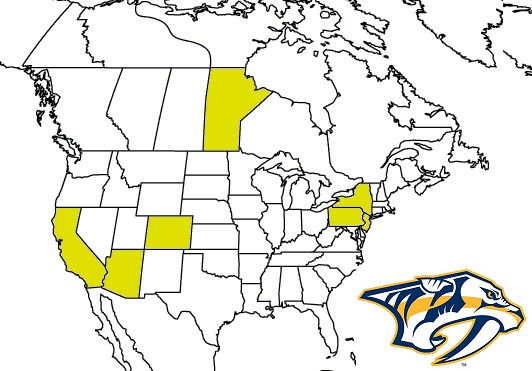 Four time zones and seven cities in 17 days. That's what the Nashville Predators are about to experience.
Starting Thursday night in Phoenix, the Preds will embark on the longest road trip in franchise history. But they don't just hope to come back with a bunch of wins. They hope to come back with some cohesion too.
"It can bond you in a lot of ways," Head Coach Barry Trotz said. "I always look at it like when you take the family on a field trip or you go camping or something where you're stuck together for a number of days. Something funny always happens or someone says something and the guys won't be able to let it go."
There will be plenty of chances for that to happen. Over the next two and a half weeks, the Predators will step foot in six states and even a Canadian province before returning home to play the Chicago Blackhawks on November 16.
Of course, then they go right back on the road again for two more dates so, in reality, it's more like a 23-day trip because they'll play 10 games in 10 different buildings during that time.
"It's great for the team overall," defenseman Victor Bartley said. "You're spending every single minute and every hour together. It's a good time for teams to come together, especially right now early in the season. I think it's going to be really beneficial for us."
It certainly has all the makings to be. Only two of the seven games are against teams in the Central Division, giving them ample opportunity to steal points (or surrender them) to teams they aren't in direct competition with.
"You're around each other every day," Seth Jones said. "It's not like home where you come to practice and then go home. On the road, you eat together and you do everything together. It's good that we can get this done early in the season. It's important that the team [develops] chemistry."
Getting the massive 17-day trip out of the way is advantageous. After this, Nashville doesn't have a road trip longer than four games and 25 of their 39 games between November 28 and March 8 are at home.
"On the positive end, we're going to have a stretch where we're going to be at home a little bit," Trotz said. "I know when we made the playoffs — I think when we ended up playing Anaheim [in 2011] — we had 12 of our last 14 at home. That really solidified us getting into the playoffs and set us up with a lot of confidence."
The Preds don't have it as good this season but they can use these next four months to make headway so they don't have to put themselves in that all-too-familiar position of needing to battle each and every night down the stretch just to get into the dance.
Two of their final three are at home but half of the final 10 aren't so, if they want to have something left in the tank come playoff time, they need to compile as many points as possible now.
"We've got to have a decent trip here to stay with the pack and put ourselves in position to be successful," Trotz said.
The Predators currently sit fifth in the Central and 10th in the West with 13 points.
"We feel good where the team is at right now," Jones said. "We feel confident and we think we can gain a lot of momentum for the season through this road trip."
"Something is going to happen on the road here — good or bad — that we'll try to rally around," Trotz prophesized.
Let's hope the "something that happens" is of the good variety.
—
PHOTO CREDIT: Elizabeth Urlacher // Hockey Spirit Fundraising (used with permission)