Preds now .500 during Hell Week as Blues roll…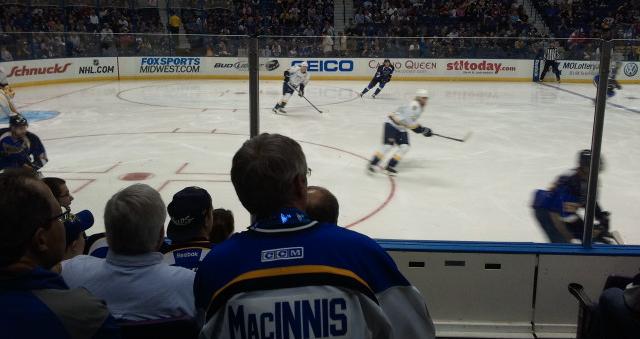 Head Coach Barry Trotz was going for win #500. The team was trying to leapfrog the fourth-place Detroit Red Wings.
Unfortunately, neither of those things happened.
The Western Conference leading St. Louis Blues beat the visiting Nashville Predators 3-0 in front of 19,150 at Scottrade Center.
With the loss, the Predators remain in fifth place in the West and third in the Central. With the win, St. Louis nearly guarantees themselves the 2011-12 Central Division banner and inches that much closer to the President's Trophy for the best overall record in the NHL.
Per usual, Pekka Rinne was not the problem for Nashville. He made 21 saves but his defense left him out to dry on this night. His record fell to 41-17-8 with the loss.
A scoreless opening frame gave way to a St. Louis goal in the second. Veteran winger Jamie Langenbrunner capitalized on the Preds scrambling in their own end and put a wrist shot up and over Rinne for the 1-0 lead.
The score would remain that way until the third period. In the early going, David Perron tallied his 17th of the season with a sick move around Kevin Klein at the blueline. He then danced to the front of the net and went post-to-post to get Rinne to go down. Once he did, Perron deposited it in the back of the net for the 2-0 lead.
While the Preds dodged a serious bullet on a wrongfully disallowed goal midway through the period, St. Louis would not be denied. TJ Oshie scored his 19th of the season by coming out from behind the Predators net and backhanding one under the crossbar to seal the victory.
With the loss, the Preds failed to clinch a playoff berth under their own accord. They'll now do some scoreboard watching tomorrow night because, if the San Jose Sharks lose to the Anaheim Ducks, they'll lock up their seventh playoff appearance in eight seasons.
They're next opportunity to get back on the ice is Friday night in Detroit as "Hell Week" continues.
Puck drops in Detroit at 6:30pm Central.
—
PHOTO CREDIT:  Josh Bahr // Twitter